This article is more than 1 year old
HD TV in the UK
Time to buy a 1080p telly at last?
Another affordable option — though only if you live in an area that can receive the service — is the Virgin TV cable service. The V+ box that Virgin provides to its customers costs £150 and is capable of receiving both standard-definition and HD channels. However, when we rang them they offered to let us have it for £75 — obviously an attempt to lure us away from Sky and Freesat.
Virgin offers three packages of channels, called Small (free), Medium (£9 per month) and Large (£9.75), and for another £5 per month you can get the BBC HD channel added to the Small and Medium packages — there's no additional cost for the Large package. Virgin also has an 'on demand' option that includes pay-per-view films, some of which are in HD. However, Virgin were a bit vague about the HD films that are currently available, so Freesat looks like a better deal if you're looking for an affordable entry into the world of HD.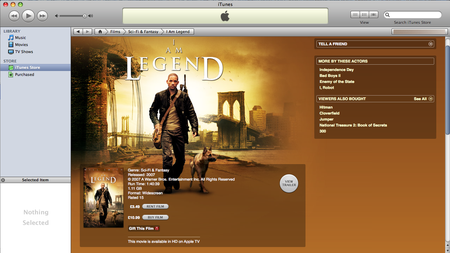 iTunes will sell and rent HD movies — but only to AppleTV owners
The final option that's worth mentioning is Apple's iTunes and AppleTV. After a long wait, the iTunes Store in the UK now sells and rents a range of films and TV programmes — some of which are available in HD. The HD films in the iTunes Store are only available for rent — you can't buy them and keep them — and can only be downloaded onto the AppleTV box, which costs £199 or £269 depending on the size of the built-in hard disk: 40GB or 160GB.
Unfortunately, the range of HD movies is pretty limited at the moment, and the recent price cut that Apple announced for the AppleTV in the US hasn't been passed on to UK customers, so AppleTV remains something of an underachiever here in the UK.
High Hopes
All these HD services will continue to expand in the future — though none of them has made any specific announcements about new content or channels that are likely to appear in the near term. You can also expect other services, such as BT's on-demand Vision service, to move into HD as well — "some point this year", they told us. Prices for the SD version currently available start at £6 a month and there's a one-off £30 connection fee, but the set-top box and installation are free.
The UK is still about five years behind the US in its adoption of HD technology, but we're hoping that the arrival of Freesat will finally kickstart HD over here, providing more choice and lower prices for the millions of people who have already invested in HD TV sets that are currently not being used to their full potential.
Update
Thanks to Register Hardware readers who reminded us that Xbox 360 owners can download HD movies. The service operates through Xbox Live!, though according to the website only 28 hi-def movies are currently available for download.