Canon EOS 450D digital SLR
Truth be told, we hoped for more
---
The move is clearly designed to make the EOS 450D appeal to a wider target audience and the compact nature of the SD card does help to reduce the camera size and weight a little - the EOS 450D measures 129 x 98 x 62mm and weighs 475g. We certainly didn't notice any deterioration in performance with SD cards - from either a writing speed or a picture quality point of view.
The EOS 450D is compatible with a wide range of Canon EF and EF-S lenses – we used an EF-S 18-55mm zoom. No surprise that there's not a great deal of difference between the EOS 450D and EOS 400D in terms of looks and layout.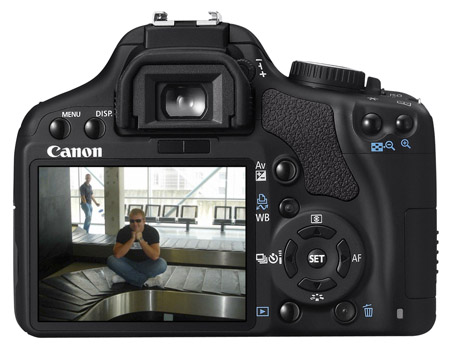 The LCD screen is bigger and 50 per cent brighter
At the top is a pop-up flash, large function dial, on/off switch, ISO button, control dial - for adjusting parameters such as shutter speed and aperture - and shutter button. At the back is the LCD screen, two tiny zoom buttons for magnifying the playback image up to 10x, plus buttons for menu, display mode, exposure compensation, white balance, playback and delete.
A large rocker multi-controller is used for adjusting various parameters, including autofocus mode, drive mode and metering mode. Below the viewfinder is a sensor which automatically disables the LCD screen whenever your eye looks through the viewfinder. At the right-hand side is the card slot; at the bottom, the battery compartment. On the left-hand side is a small flap concealing video-out and mini USB ports.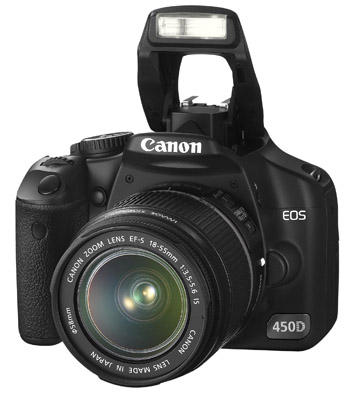 Switch-on is super-fast and shutter lag is minimal
When it comes to features, the EOS 450D offers an ISO speed range of 100-1600 and a shutter speed range of 1/4000-30s. The camera shoots both JPEG and RAW images, and you can shoot both formats at the same time. The maximum JPEG resolution is 4272 x 2848, giving a file size of 4.3MB. RAW file size is 15.3 MB at a fixed resolution of 4272 x 2848.