What's the most simple way to turn an analogue telly into a digital Freeview viewer? According to UK manufacturer TVonics, its MFR-300 gadget is.
The 70 x 54 x 27mm unit plugs straight into your TV's antenna port - it has an co-ax aerial socket of its own - and once powered up searches out and maintains a list of channels you can then select using the supplied remote control.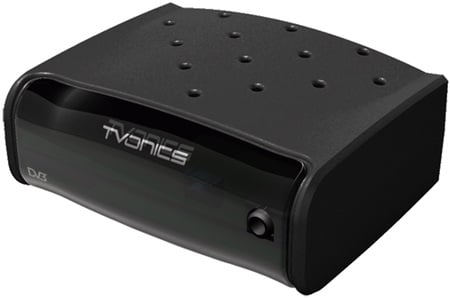 TVonics' MFR-300: 'set-back' box
Like any other Freeview set-top box, the MFR-300 sports an eight-day programme guide. It also has a built-in CPU that, TVonics claimed, makes for "exceptionally fast and responsive" red-button text services.
The gadget's also compatible with broadcast programme Audio Description feeds, so it's handy for folk with seeing difficulties.
Available now, the MFR-300 costs £50. A version without Audio Description support, the MFR-200, costs £40.
Related Review
TVonics DVR-250 Freeview Playback DVR


Sponsored: Webcast: Discover and secure all of your attack surface