This article is more than 1 year old
Getac E100 rugged UMPC
Armour-plated 'ard drive
The specs aren't exactly awe-inspiring, but bearing in mind its intended function and the fact that it not only has no fans, but no vents either, it should be enough grunt for most peoples needs out on site or in the field.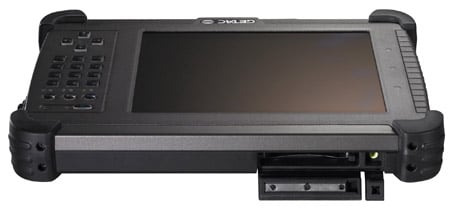 Not exactly awe-inspiring specs
Communications are provided by a Gigabit Ethernet port, 802.11b/g Wi-Fi and Bluetooth 2.0+EDR. GPS is optional and so is cellular network connectivity - you can add a GSM/GPRS/Edge/3G/HSDPA card if you wish. Both options have internal antennae, as well as pass-through ports if you need more signal.
The E100's display is a 8.4in scratch-resistant touchscreen, which operates at a resolution of 800 x 600. Although this means that things on the screen are of a decent size and easy to manipulate with the stylus, because many web sites and applications are optimised for 1024 x 768, you may find yourself scrolling from side to side as well as up and down.
Where the screen really does shine, quite literally, is outdoors. The biggest failing of just about every notebook screen around is that it's practically unreadable in sunlight. The E100, however, is bright and easily readable, even in the glare of full sunshine. It also packs in a light sensor to automatically adjust the brightness depending on ambient light levels.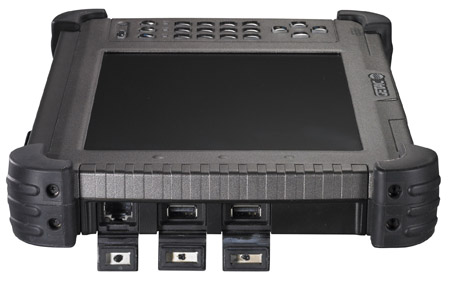 The USB slots are deeply recessed, so a USB extension cable might be needed
The E100 runs Windows XP Tablet PC Edition, so be used almost entirely through the touchscreen. However, there's a small keypad on the right-hand side and a stylus that slots into the side and which, thanks to a bit of stretchable cord, won't disappear in a hurry.