This article is more than 1 year old
Getac E100 rugged UMPC
Armour-plated 'ard drive
The screen is pretty responsive, but it lacks the ability to notice a hand resting on it and ignore that input, something many other modern touchscreen devices don't seem to have a difficulty doing. This isn't a problem for general usage but can cause problems when you're trying to take notes in, say, Windows Journal.
Although usinh the E-100 is generally intuitive, if you're not used to using a tablet PC then you'll probably take a little while to get the hang of actions like the right-click and using the virtual keyboard. The keys are all soft rubber and well spaced, meaning grip and using them with gloves on shouldn't be a problem.
Most of the keys have a second function, activated by the 'Fn' button. The '1' key toggles the touchscreen on and off; '2' performs a right-click; '4' cycles the screen brightness between manual, full and automatic; '7' rotates the display; '8' toggles the keypad backlight; '0' doubles as the Esc key; Del performs a 'Ctrl-Alt-Del'; and the navpad adjusts screen brightness and volume.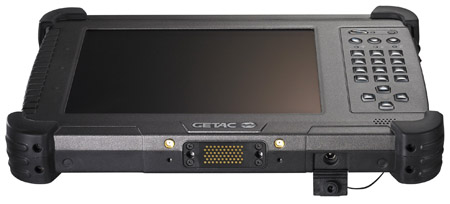 Almost all ports have their own protective hinged rubber plugs
Another word of warning here: the icons that show each key's alternative function are incredibly small, so you'll probably want to spend some time learning where they are by heart rather than squinting at the keys every time you want to do something.
It's a small gripe, but we can't help but think the addition of a 'Windows' key wouldn't have gone amiss too, thereby allowing users to navigate through the Start menu without having to use the touchscreen.
There is a Menu key, which brings up a list of the basic activities, including launching one of five pre-set applications. These default to Internet Explorer, Outlook, touchscreen calibration, Bluetooth setup and the virtual keyboard, but can configured to run any program.