This article is more than 1 year old
Getac E100 rugged UMPC
Armour-plated 'ard drive
Running a burn-in test with the Wi-Fi on and the screen brightness on automatic (indoor conditions) we got 2 hours, 53 minutes of life out of the battery. In general use you can typically expect around four hours of use, but this can drop if the screen brightness is cranked up to the maximum. The battery is replaceable, but the cover is screwed in to place in order to remain tightly sealed.
Because the screen resolution won't hit 1024 x 768, we couldn't get a video score on PCMark05. But an averaging the scores from three runs we got the following results:
PCMark05 Results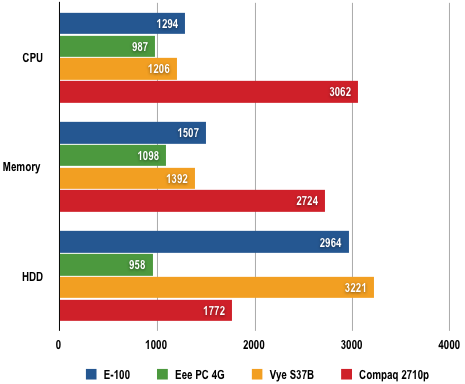 Longer bars are better
While we weren't expecting miracles from the integrated graphics engine, we were expecting a little more than a paltry score of 72 in 3DMark06. This implies that any kind of rendering program is going to have a tough time on the E100.
All this durability and power doesn't come cheap. According to Getac the E100 starts at around £1500. By today's notebook standards, that's pretty pricey, but if you have need for a device like this, you'll probably be willing to pay for the protection its rugged build offers.
Verdict
The Getac E100 is a solid piece of kit yet is light enough to carry around in the crook of your arm for a few hours without requiring Olympian strength. It can run most of today's applications without stressing too much, but it's no powerhouse. The screen is amazing for use outdoors and the plethora of connectivity options keep it online almost anywhere.
If you're just looking for a laptop that'll survive being tossed around, you might consider one of GETAC's rugged notebooks or a Panasonic Toughbook for example. But if you're in the market for a device you can use on site, which can withstand some pretty big bumps and knocks, and will happily boot up in the Antarctic, Amazon or Sahara, then it's certainly worth exploring what the Getac has to offer.

Getac E100 rugged UMPC
A hard-working little UMPC, perfect for rugged environments, but at a cost