This article is more than 1 year old
Flying cars on the horizon, says Clive Sinclair
'I'm sure it will happen'
Sir Clive Sinclair yesterday pretty well put the kibosh on the possibility of humanity ever getting behind the controls of a flying car by declaring them "technically entirely possible".
Speaking to BBC Radio 4's PM programme, Sir Clive said the future of personal transportation would, of course, have to be electric-powered, because petrol engines "were not reliable enough", and fully automated "because we can't all learn to fly".
He explained: "The vehicle would take off from your home and fly to wherever you want to go."
Indulging in some light futuroligising reminiscent of 1950s flying car visionaries, Sinclair predicted: "I'm sure it will happen and I am sure it will change the world dramatically."
Of his own foray into electric vehicles - the Sinclair C5 which sadly failed to change the world, dramatically or otherwise - the inventor admitted it "didn't achieve the success I expected".
He offered: "We did sell quite a few thousand. Looking back I can see why [we didn't have success]. It was a bit daunting to go into traffic."
Nonetheless, Sir Clive noted rising fuel prices have revitalised electric car research, and he expressed the hope of one day returning to the field, if he can sell enough of his latest offering - the foldable A-Bike.
He admitted: "The thing is - to do an electric car is obviously a huge investment. I'd need huge success in the electric bike field."
In the meantime, Sinclair said he had no plans to get into electric flying cars, but said he'd "love to be involved" with any project. If he does, here's our artist's impression of how the result might look... ®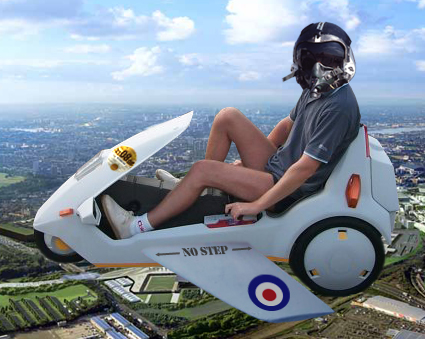 Bootnote
During his interview, Sir Clive interestingly confessed he didn't use the internet since, as an inventor, he steered clear of "mechanical and technical things around me so they don't blur the mind".
He did, though, describe the web as "just wonderful and quite amazing" - thereby proving he really hadn't ever been online.