David Davis tells El Reg that Labour is 'mesmerised' by tech
Liberties sacrificed for 'an illusion'
Interview As polling day approaches for the Howden and Haltemprice by-election, voters and observers are left with an eerie sense of déjà vu as Labour once again refuses to debate its civil liberties record with David Davis.
Just over four years ago, a keynote conference, "Mistaken Identity", was organised by Privacy International. While the focus was on government plans to introduce identity cards, speakers ranged far and wide across the civil liberties implications of the scheme.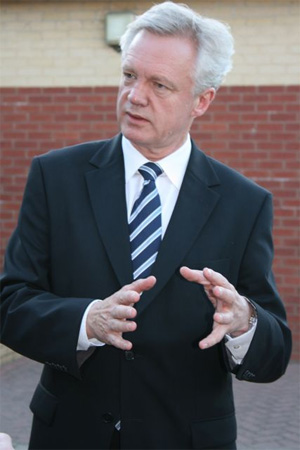 Davis: hopes to kick 42 days into touch
It was Conservative Shadow Home Affairs spokesperson Davis who provided an impressive roundup of the issues. He accused the government of having a poor track record in protecting of confidential information, with the increasing exchange of data between departments authorised by ministerial fiat rather than legislation.
As for ID cards, sophistication was no deterrent to terrorists: since 1986, twenty of the twenty five countries who experienced terrorist outrages have a national identity card scheme and five of these use biometrics.
You want liberties? We'll take liberties
One might expect, at the very least, a junior Minister to have turned up to rebut this assault on a central plank of government policy. But no. Not a squeak.
Roll forward four years.
On the tenth aniversary of New Labour's historic victory, Liberty issued a damning catalogue (pdf) of civil liberties failings that had taken place under this government. Writing in The Guardian, Liberty Director Shami Chakrabarti accuses the government of losing moral authority.
And at the end of 2007, Privacy International's latest assessment of surveillance worldwide places the UK firmly at the bottom of the class. 43 out of 47 countries worldwide: on a par with Singapore – and a whisker ahead of Russia, China and Malaysia. We are classed as an "endemic surveillance society".
Still, the wider debate failed to materialize.
So, perhaps it should not have been a surprise that Davis, exasperated by the government's stance on a number of key civil liberties, resigned his seat and set off a by-election. He wants a debate on the state of liberty in the UK today. The media are happy to give it to him. Leading commentators engage with him.
Yet again, the silence from New Labour is deafening. Or rather, New Labour has responded the only way it appears to know how: by personal attack and innuendo, while refusing to debate its achievements on civil liberties in any forum it cannot control completely.
Speaking to The Register recently David Davis was keen to put is actions into perspective.
"It wasn't just the '42 days'," he says. "That was just the final straw."
He explains: "The last few years have seen a continuing erosion of civil liberties in Britain. Values and freedoms that we once took for granted are being taken away on an almost daily basis.