Now that HD DVD's out of picture, consumer electronics companies can steer Blu-ray into the mainstream. The latest to do so, Pioneer, has unwrapped a quartet of players it plans to launch.

Pioneer's BDP-LX08: slimline
The BDP-LX91, BDP-LX71, BDP-LX08 and BDP-51FD all support version 1.1 of the Blu-ray spec, aka Profile 1.1, so they can handle BonusView picture-in-picture content. The top-of-the-range LX91 will also come with BD Live - the ability to grab and display online content, internet connection permitting.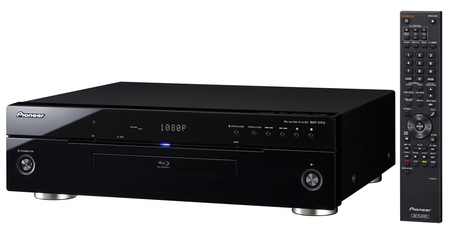 BDP-51FD: chunky
They all have HDMI 1.3 ports and support CD playback over the HDMI link, if you want to hear your tunes through your telly. They do HD audio and 7.1-channel analogue. All of them use Pioneer's Kuro user interface.

BDP-LX71: chunky... but - hey - it's got gold-plated terminals
They can handle cinema-style 24 frames per second playback and punch out pictures at 1080p resolution. They support HDMI's 12-bit Deep Colour for an effectively dither-free image.
Pioneer didn't say how much the machines will cost, but it said the low-end 51FD and LX08 - it's primarily design that differentiates them - will debut in October, shorty after the LX71 arrives in September. Its advantage over the others: gold-plated terminals and touch-key buttons.
The LX91 will go on sale "later this winter".
Video Review
Sony BDP-300 Blu-ray Disc player


Sponsored: How to simplify data protection on Amazon Web Services