Review Thousands of Brits are going to find their analogue TVs incapable of picking up a signal come 2012. Clearly, that doesn't concern too many of us, since we're still buying plenty of analogue tellies.
This situation may have got Parliament in a panic but plenty of punters know all they need to go digital is to pick up a set-top box. Or how about a 'set-back' box - a compact unit that does the same job but is intended to fit onto the back of your set?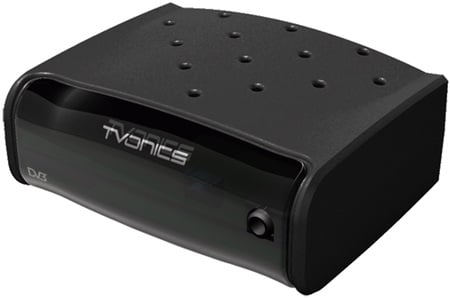 Tvonics' MFR-300: not so much set-top and set-back
Enter TVonics with its MFR-300, a shiny black gadget that's about the size of a pack of cigarettes and intended to bring digital TV to all those small, Scart-free tellies out there.
It also has a neat, niche feature: Audio Description - broadcast speech that provides folk who can't see so well with a guide to the on-screen action.
The MFR-300 comes with its own remote control, an external infrared pick-up and the inevitable AC adaptor - in this case, it's discreet, barely bigger than a standard three-pin plug.
Power and the signal from the IR receiver are fed into connectors on the back the MFR-300. So too is the aerial feed. There's an output port next to it, allowing the TVonics device to sit between antenna and telly. There's no Scart connector, but that's the whole point of this box: to bring digital TV to sets that were never intended to be connected to other devices except through the aerial socket.