Architect Watch Heavens be praised* - the energy security/climate/fuel-price crisis has been solved by an MIT professor. Remarkably, not a professor of engineering or science either - but an architecture prof. Sheila Kennedy and her partner Frano Violich - assisted by other architects - have designed a "soft house" powered by "energy harvesting" solar-photovoltaic curtains.
By now, many Reg readers' hackles will be rising at the words "energy", "harvesting" and "architect". Infamous memories of the crowd farm idiocy and the car-powered windmill railway may be stirring.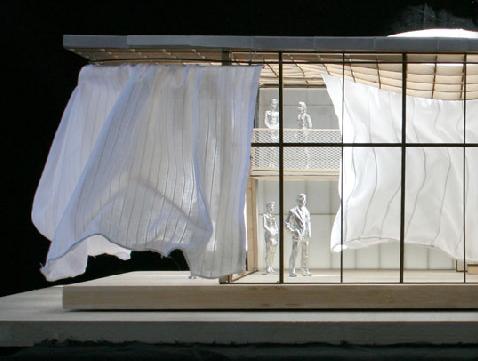 The soft house: No place for hard facts.
But, yet again, the story has been picked up here and there of late by uncritical "tech" news outlets**. This is why we noticed it, but in fact the "soft house" notion was making news in architectural circles last year. Let's let the hacks of Architect magazine tell the story:
The Challenge: How can prefabricated housing be energy efficient, even to the point of generating its own power?

The Solution: the Soft House ... replacing many of the hard wall surfaces of a standard prefabricated house with movable curtains that contain ... thin-film photovoltaics. The research team found that these technologies would enable a 1,200-square-foot house to generate enough energy to meet fully half of its own daily requirements (as much as 16 kilowatts of direct current, or DC, power) ...
Sixteen kilowatts is actually enough to power several houses. A British household uses about 60 kilowatt-hours a day on average; one in the US, 73 kilowatt hours***. One soft house, assuming the 16 kW is also an average, could power six of today's British (or five American) homes. If we all lived in soft houses we could leave our vast plasma TVs on as much as we jolly well liked, charge up our huge electric cars with ease and have mighty electric patio heaters burning to our heart's content - and tell the nasty old national grid to go screw, because we wouldn't need it at all. Ha ha! That's some pukka off-grid living - not just for unwashed hippies.
But wait - unfortunately this seems to be a case of a journalist not quite understanding about watts, kilowatts etc. (It's very common.) Sadly, the soft house is actually rated by Kennedy and Violich to produce "up to 16,000 watt-hours of electricity - about half of the daily power needs of an average household in the United States".
Well. Actually about a fifth, if you believe the US government. But hey, whatever. Sixteen kWh is pretty damn good for a home solar plant - especially one that's made of fabric. It's almost too good to be true.
Whoops. Not just almost. In their cheery unconventional way, Kennedy and Violich have omitted to put any of their miracle solar cloth on the roof and hung it all vertically. This means that any given square metre of it can only be getting sunlight for an average 6 hours of the day across the year, tops, even if you build on the equator.
Still, theoretically sunbeams carry more than 1kW per square metre, so perhaps we only need 2.67 square metres of curtains to get our 16kWh daily. But 10 per cent efficiency is a very generous assumption for flexi-cells: we're up to 26.7 square metres of curtains already. The vertical hang means that the sun is at the right angle only when shining through the maximum distance of energy-sucking atmosphere - for most of the morning/afternoon, you don't get one square metre of (attentuated) sunbeam per square metre of curtain. Forty square metres of curtains, at least - all of them on outside walls, pointing at sunrise and sunset (best put the house on the equator). Actually, the cells are at best half the curtain area, because of the lovely process in which the architects have decided to "weave" strip cells into a "fabric" - so that's 80 square metres now.
The soft house covers 1200 square feet, we're told - 110 square metres. If it's square, it will need to be around four metres high; just about right for the pics. You could make it into a long thin rectangle and help yourself out a bit, but only by a factor of two or so.
That's not going to be enough, because this is a fantasy scenario so far; a house on the equator, surrounded by miles of flat empty terrain or on a hilltop, where not a cloud ever crosses the sky. If the soft house actually was in America - or even worse, in Britain - and there was any weather, you'd be talking about a small fraction of 16 kWh daily. Since that's actually only a fifth of what a house requires, this is really rather unimpressive.
Kennedy and Violich say they're "actively seeking development partners from the manufacturing and real estate sectors to realise SOFT HOUSE demonstration projects in 2009".
"I do think the time is now," Kennedy told CNN the other day.
Good luck with that. ®
* Literally.
** Which in this case describes a news outlet that exhibits no grasp of technology. Or anyway, no technology beyond the level of the USB wine tap.
*** According to the US Energy Information Administration (pdf), which charmingly prefers to use British thermal units, and the UK Office of National Statistics, which favours kilograms of oil equivalent. There are plenty of online conversion tools for those who'd like to check.