Updated Google's Docs and Spreadsheets disappeared today for close to an hour, proving that the world's largest search engine is a long way from perfecting the art of online business applications.
Many businesses paid good money to look at this screen, which appeared - at least to people in Silicon Valley - from about 9am to 10am: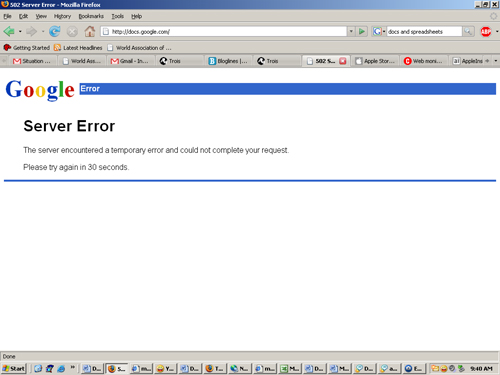 When clouds die
As a Google Apps Premiere customer, the San Francisco-based open source outfit MuleSource pays Google for the use of Docs and Spreadsheets, and it describes the experience as a game of chance. "As businesses look to move their systems and applications into cloud-based services, we expect them to work minimally as well as if we ran them ourselves," Mule Source CEO Dave Rosenberg tells us. "With Google Apps, we are at the point of taking bets to see if the services will actually be up."
Google's error message kept telling Rosenberg to "Try again in 30 seconds." Say what you will about Microsoft Office, it's never that cruel.
We've asked Google why its cloud died. But it has yet to respond. ®
Update
Google has responded, and the company wants you to know it fully realizes that when people pay for something, they expect to have access to it. "For a short period this morning, our users had difficulty accessing Google Docs. Some Google Apps users were also affected," the company says. "We have now resolved the problem. We know how important Google Docs is to our users, so we take issues like this very seriously."