HTC Touch Diamond
The iPhone assault continues
Review With the Diamond, HTC probably reckons it has a device that can stop lurking in the bushes, and instead leap out and bash the iPhone over the head with a brick.
The first thing that struck us about the Diamond was how small it was. We were expecting something altogether more iPhone-like in both size and weight, but the HTC is a fair bit smaller - 102 x 51 x 11.5mm to 115.5 x 62.1 x 12.3mm - and, at 110g, it's lighter than the 133g iPhone.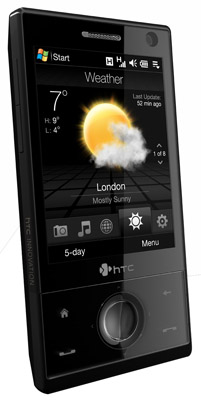 HTC's Touch Diamond: remarkably stable for a Windows Mobile handset
In the hand, the Diamond is a pretty plastic affair, but still feels solid enough and has a slick, modern and minimalist quality to it. Only the rather cheap and shiny angular 'diamond' back panel divided office opinion on the aesthetics.
External controls are limited to the volume keys on the left, and the on/off switch at the top. On the faceplate below the screen is a panel with four buttons to answer or end a call, navigate to the home page, and go back a step. In the centre is a small, circular pressure pad. The four compass points click to allow you to navigate through menus, while running your thumb around the edge lets you scan through music files.
The on/off button doesn't actually have any movement in it. The gentlest of taps sends the phone into standby, or hold it for a bit to be given the option to fully power the handset down. By way of compensation for this less than satisfying tactile solution, the stylus – yes, it has a stylus - niftily shoots the last few millimetres into its slot with the help of the wonders of magnetism.
Running Windows Mobile Professional 6.1, the Diamond does what every other member of the Touch family does. By way of basic technical specification, you get 7.2Mb/s HSDPA 3G, tri-band GSM/GPRS/Edge, 802.11b/g Wi-Fi, 4GB of on-board storage, GPS, an RDS FM radio and a 3.2-megapixel autofocus camera.