Nikon D40 entry-level digital SLR
Passed your compact proficiency test? Time to take on the DSLR
Review The D40 is still part of Nikon's current range. To begin with it was a sub-£500 camera; today it's a sub-£300 model and in our book that makes it worth serious consideration by the DSLR beginner.
It's true that to a large extent, you get what you pay for, and in launching a low-cost DSLR, Nikon has had to make some compromises. First, the D40 has a plastic body and comes with a plastic lens. That said, it's solidly built and doesn't feel like it'll fall apart in your hands after a few outings.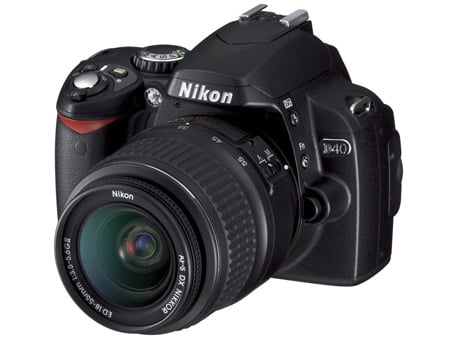 Nikon's D40: corners cut to keep cost down
The camera body has no internal autofocus drive motor, so if you want to use the AF facility, you're going to have to use Nikon AF-S and AF-I lenses, both of which have their own motor. There's nothing to stop you using other Nikon lenses with the D40, but you'll be restricted to manual focus mode - and even then, not all Nikon lenses are compatible with the camera. Our sample came with an 18-55mm, f3.5-5.6, GII ED AF-S DX Zoom-Nikkor lens.
Other compromises include a lack of certain higher-end features, such as bracketing and an image-sensor cleaning system. And the D40 uses a three-point AF system rather than the 11-point one found on, say, the D80.
The CCD itself 'only' has 6.1 megapixels (effective), half the number found on some compact cameras. But there's more to image quality than the number of pixels and that includes the size of the pixels, the size of the sensor chip, the quality of the camera optics and the image processing technology that underpins it all. The D40 uses a 15.6 x 23.7mm CCD.