Cnet blogger squadron discovers long lines at Apple retail stores
The brick and mortar cult
---
Early this morning, three different Cnet reporters blogged from three different retail stores in the San Francisco Bay Area. And two others blogged from more retail stores in New York City.
Announcing the plans to cover the retail stores, Cnet's Tom Krazit, a veteran of the online tech-news outfit, promised that the team of reporters would be "soaking it in as much as possible."
Krazit backed up that vow by arriving at a downtown San Francisco Apple Store at 7am. "Employees here are milling about excitedly, chatting with the customers, handing out forms and tiny golf pencils to the people in line," he wrote at 7:35.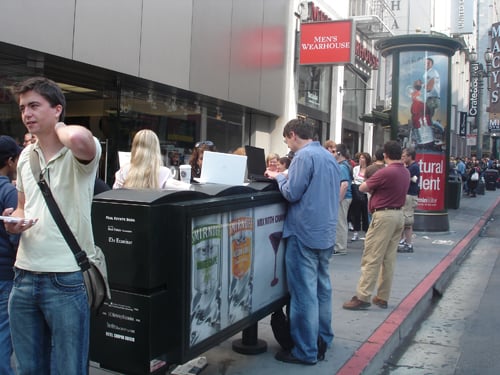 A Cnet blogger
More than two hours later, he was still blogging, and he said he'd continue blogging until his battery died. "I'm on my second battery," he said during an exclusive interview with The Reg.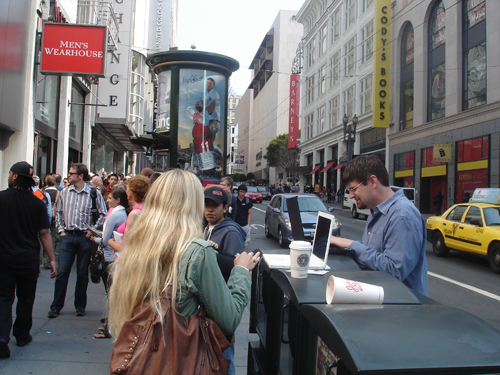 A Cnet blogger from another angle
As Krazit typed at the Apple Store, Cnet colleague Erica Ogg was typing at the AT&T store just a few blocks away. But by 9:45, she'd stopped typing. "She had to bail," Krazit told us. And he was right. When we arrived at the AT&T Store, Ogg wasn't there.
Meanwhile, on the other side of San Francisco Bay, Cneter Josh Lowensohn was typing at the Apple Store in Emeryville. "A fight broke out in Emeryville," Krazit told us. "That was pretty cool. But I don't know if we got videos or photos."
But these weren't the only Cneters who spent the morning typing about the American retail scene. Three hours earlier, at 7am New York time, Caroline McCarthy was blogging from the Apple Store on Fifth Avenue. "Apple Store representatives are handing out bottled water, and the Waiting for Apples team is handing out apples," MacCarthy wrote at 7:10. "Looks like the cop cars are doing a routine drill. They're driving south down Fifth Avenue now."
And on the other side of Manhattan, Marguerite Reardon was blogging from the AT&T Store at 95th and Broadway. "With the exception of one guy, who camped out overnight in his sleeping bag, the AT&T store is relatively quiet," she wrote at 7:30. "People didn't start showing up until around 4 a.m., store officials said."
That's it for the bloggers. But a sixth Cnet reporter joined McCarthy at the New York Apple Store, delivering live TV reports for CBS, Cnet's parent company. And there was a CBS reporter there too.
CBS recently paid $1.8bn for Cnet. And many believe that's money well spent. ®