This article is more than 1 year old
Boeing to build combo airship-copter flying cranes
Canadians plan worldwide rental whirlyblimp service
Aerospace behemoth Boeing has announced that it will build a hybrid airship/helicopter combination aircraft, able to lift heavy loads across long distances. Boeing will work with Canadian firm SkyHook International.
"SkyHook secured the patent for this neutrally buoyant aircraft and approached Boeing with the opportunity to develop and build the system," said Boeing whirlybird chief Pat Donnelly. "We conducted a feasibility study and decided this opportunity is a perfect fit."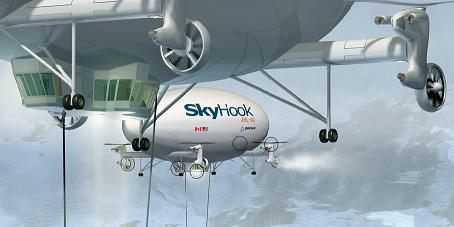 Have bag, will travel.
The planned JHL-40 will use a helium-filled lifting envelope with both lift rotors and swivelling propulsors attached. The helium will make the aircraft neutrally buoyant, meaning that the entire rotor thrust will be available for lifting loads. This will mean greater fuel efficiency than a normal helicopter, but will avoid the problems suffered by a normal, rotorless airship on depositing a heavy cargo*. The swivelling thrusters will mean that the JHL-40 can hover with great precision, picking up and setting down loads as accurately as a crane.
According to the planned spec, the gasbag-chopper combo will be able to lift a load of forty tons and move it 200 miles without refuelling. This is twice as much load as the biggest current helicopters can manage. Boeing and SkyHook say there are companies queuing up to hire JHL-40s, excited by the prospects of much easier transport in remote or harsh-climate regions without good roads. The plan is that Boeing will build the JHL-40s and SkyHook will own and operate them.
SkyHook say that JHL actually stands for "Jess Heavy Lifter" after the company CEO Pete Jess - no relation to the US military project, Joint Heavy Lift - and claim the machine will be "the first of its kind". Those who recall the ill-fated Piasecki Heli-Stat might dispute that last bit, however. The Heli-Stat was remarkably similar to the JHL-40, but didn't have the financial muscle that Boeing will be able to provide this time around. It was made by fixing together a retired US Navy blimp and the front ends of some old Sikorsky helicopters. The JHL-40 graphics (beware - Flash) suggest a rather more polished product.
SkyHook even claims that the new blimpcopter air-cranes will even offer an environmental benefit, in that big roads for construction equipment and so forth won't need to be built - a JHL-40 could be used instead. That sounds a little suspicious, but overall it seems a nifty idea. ®
Bootnote
* The airship would suddenly be very positively buoyant, and would soar upwards uncontrollably. Even if the pilot refused to vent off gas, this decision would soon be taken out of his hands as "pressure height" was reached, where the expanding gas completely fills the envelope. Automatic valves would then dump the gas to prevent the ship bursting. As helium is expensive, it can't be thrown away like this every time a load is dropped off.