Upgrade drags Stealth Bomber IT systems into the 90s
We're looking for a Mr Gorb... Gorbachev
---
US aerospace heavyweight Northrop Grumman has revealed some details of a planned upgrade to the computing system of the famous B-2 Stealth Bomber, one of the most expensive and unusual aircraft in the world. According to reports, the well-known but seldom seen ghost bomber will be finally moving up to Pentium processors and code written in C. The B-2 will also get a new disk drive.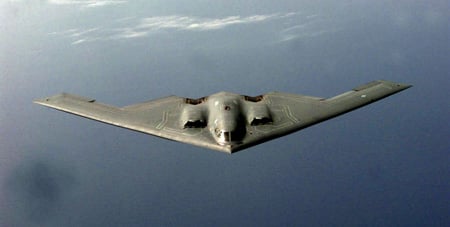 Stealth Bomber - now with Pentium sticker.
Northrop says that during the upgrade, many standalone computers distributed throughout the B-2's batwinged airframe will be combined into a single faster and more modern Integrated Processing Unit (IPU) with fibre links to the various hardware it needs to interface with.
Flight International reports that the IPU will use "Pentium class" processor chips. According to Northrop: "It provides the high-speed data handling environment required to implement future capabilities such as an EHF satellite communications system, and the ability to destroy moving targets."
The new disk drive - a piece of kit seen by US government auditors as "high risk", but in which the air force and Northrop have full confidence - will come from Honeywell. The B-2's flight-management computer, without which its unstable low-observable flying wing airframe cannot fly, will be replaced by a more modern single-card processor "installed in one of many computer slots" in the new IPU.
Naturally the stealth bomber's software has to be rewritten for the new platform, in particular the operational flight program (OFP) - the app which lets the ungainly plane fly, rather than lurching out of control as it would without constant computer assistance. (A recent B-2 crash shortly after takeoff at the Pacific island of Guam was caused by a false sensor data feed into the OFP, resulting from an airspeed measuring device being affected by tropical moisture. The duff data fooled the OFP app into wrecking the $2bn bomber - while the pilots were unable to do anything to stop it.)
It seems that the current OFP was written in a now-obsolete programming language called JOVIAL. Northrop are proud to announce that they have figured out how to translate the code into a "newer, more modern programming language called C".
While it might seem odd to some readers that the US Air Force's multibillion dollar flagship plane is only now "upgrading" to fairly basic tech, this is commonplace in advanced aerospace and military kit. The space shuttle's flight computers, similarly critical to it remaining under control, are likewise basic. In the early years of the 21st century, the main battle computer of a Royal Navy destroyer was still based around two 24-bit, 1 MHz processors each with 25KB of RAM.
Getting back to the B-2, Northrop and the US air force expect to start flight testing the new computer upgrades late next year. There are also a raft of other hardware updates - more bomb racks, massive bunker-penerating superbombs, better comms, better radar etc - planned for coming years. ®