This article is more than 1 year old
Obama bloats Vista by 11MB
56MB update adds five words to dictionary
We're very much obliged today to readers Hawkeye and Duncan Lilly for providing evidence that the Beast of Redmond's Vista is not the lean, mean fighting machine it really should be. Try this "important" update warning for size: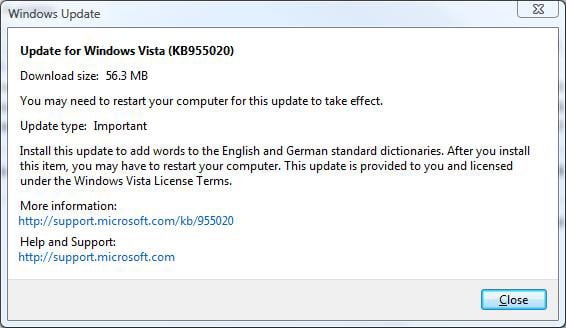 That's an awful lot of megs, to be sure - just how many words are we talking about here? Microsoft explains:
The words "Friendster," "Klum," "Nazr," "Obama," and "Racicot" are not recognized when you check the spelling in Windows Vista and in Windows Server 2008.
Hold on - that's 56MB so that Vista avoids Obama/Osama hilarity and correctly identifies the former governor of Montana? The mind boggles. ®