Farnborough Today is the opening day of the Farnborough Air Show, and the world's aerospace biz bigwigs - with attendant flacks, hacks, booth babes and renta-celebs - have all descended on this little corner of Hampshire to show off their stuff, complain about crappy British event organisation* and try to get a little business done. It's also the centennial of powered flight in Blighty today. Since a lot of the technology on display today is the world's most advanced - and some of it even involves IT - the Vulture overlords have agreed to dispatch the entire Reg flying car desk to cover the event.
So here's a quick walk around the halls and the static exhibits, just to whet your appetite for a couple of days of planes and flying robots.

Plenty of greenwash on show - and also at least one serious new engine (story to follow)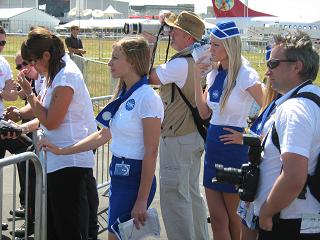 At the Lewis Hamilton photoshoot. What, you wanted to see Hamilton?