This article is more than 1 year old
Ubuntu trumpets aromatic pistou of borage
Hardy Haricot Verts
You thought Ubuntu Linux was bad enough, right? What with the freedom-loving Mark Shuttleworth behind it and all the peacenik developers. Baked Beaver and Stoned Salamander could only be a couple of releases away.
Near Silicon Valley, however, there lurks a darker, more sinister Ubuntu - one dripping with so much hippie decadence that Republicans turn into puddles of acid just by looking at the beast.
We speak of the Ubuntu restaurant and - cough - holy hell - yoga studio in Napa. This is Napa's only "vegetable" restaurant and clearly a place where men go to die.
Ubuntu the restaurant seems to have little to do with Ubuntu the operating system other than sharing a name. As is often pointed out, Ubuntu means something along the lines of "humanity towards others" in Zulu. The restaurant has borrowed an Ubuntu OS video featuring Nelson Mandela talking about the word for its web site.
Let's have a look at what the ultra pretentious food hole is serving tonight.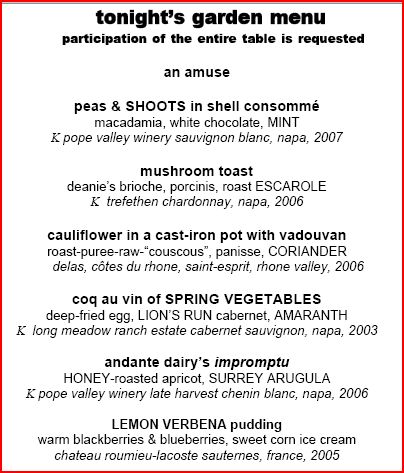 Mmmm, Couscous
Sounds delicious, although you'd be lucky to have enough energy for the walk to the car.
Of course, you could always skip dinner and just enjoy a yoga happy hour with these two.
In moderate seriousness, Ubuntu appears to be quite the happening place. It's receiving stellar reviews as a restaurant. We have no idea how it stacks up as a yoga studio, but will give it three and a half farts in the air.
Register kit and possibly even a comped meal - if the work is good enough - to the first Linux geek who ships me a readable review of the restaurant. Extra points if you also hit up the yoga studio and light a fart with this.
Ubuntu man Shuttleworth tells me that he's aware of the restaurant. And "feels obliged to check out the place." I'm ready to eat corn steak with arugula shavings and spores when you are, Mark. Dinner's on me.
You'll find the restaurant's frustrating web site here. ®