This article is more than 1 year old
Sun and Fujitsu ride Unix boxes to four-core country
SPARC64 VII plugs in
Now is about the time Sun Microsystems was meant to start telling the world of the wonders inherent in the Rock processor. No such luck. Instead, Sun and Fujitsu are celebrating the arrival of Version VII of the SPARC64 processor.
The four-core SPARC64 chip will ship inside Sun and Fujitsu's midrange and high-end Unix servers, including the M4000, M5000, M8000 and M9000. The chip replaces the dual-core SPARC64 VI and brings up to an 80 per cent speed boost on commercial software and as much as a 200 per cent kick on high performance computing (HPC) software. And, praise to Gaia, the wonder chip does this while consuming 44 per cent less energy per core.
The new chip has been floating about Sun's website for ages, and its arrival will surprise few customers. This is just Sun and Fujitsu marching on with their partnership and issuing a part that competes more favorably against IBM's impressive Power6 chip and Intel's upcoming, four-core Tukwila version of Itanium.
It looks like the SPARC64 VII will arrive at 2.7GHz – up from 2.4GHz with the VI. It's also built on a 65nm process instead of 90nm, which explains some of the power savings.
Both the VII and VI support two threads per core.
We'd tell you more about the individual systems and the new chip, but Sun canceled our call to discuss the products shortly after we posted a story noting that Sun's disappearing at pace and might just benefit from a merger with Fujitsu. The story, of course, had nothing to do with our meeting being canceled or Sun informing us that no future meetings would be available. Who reads El Reg for server news anyway, right?
As mentioned earlier, Sun had looked to flex its engineering muscle by rolling out a new fleet of systems centered around its 16-core Rock chip here in 2008. Had those systems arrived on time, they probably would have scared the big iron right out of IBM and HP. But that would make life too easy on Sun, so the company has delayed the Rock gear until at least 2009.
You can catch Sun bragging about the SPARC VII/Rock one-two punch that could have been in this slide obtained from a sales deck. We're not sure what "no one else can do", but will note that Sun can't do it either. The slide also raises the question: Does anyone else want to do this?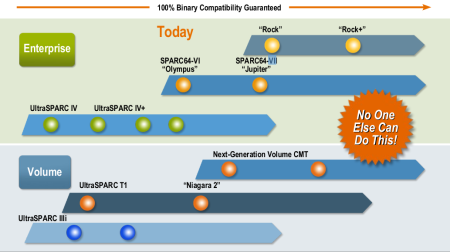 No one else can do this - Not even Sun
Anyway, the new SPARC chip should really improve Sun and Fujitsu's mid-range and high-end server lines in your usual core-doubling fashion. Best of all, the chips slot into existing systems. ®