This article is more than 1 year old
Hackintosh maker gets legal greeting from Apple
Psystar sued for ruining perfection
As was inevitable, hackintosh vendor Psystar has found itself on Apple's legal to-do list.
Apple has filed a copyright infringement lawsuit against the open hardware manufacturer, which began raising eyebrows by offering a $400 computer capable of running copies of Mac OS X.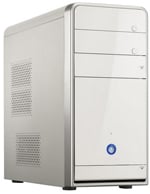 Psystar Open Computer
The legal grievances were filed July 3 in US District Court in Northern California. Details at the moment are scant with both companies tight-lipped about the lawsuit and the electronic complaint currently unavailable. But ZDnet folk with their mitts on a hard copy, say it's the standard don't touch our merchandise legal rhetoric. The suit alleges violations of Apple's shrink wrap license, copyright and trademark.
Psystar calls itself "an alternative to pricey Apple hardware." It's cheapest box capable of running OS X combines a 2.0GHz Core 2 Duo, 2GB of DDR 2 memory, and integrated Intel GMA950 graphics and goes for $555 with the addition of Leopard pre-installed.
This is allegedly a violation of Apple's OS X end-user license, which states the operating system is only licensed for use on Apple-branded hardware.
Psystar argues that Apple's licensing terms are unlawful because they're anti-competitive. Looks like they'll have a chance to put this view to the test soonish. ®