Farnborough Everyone knows about the V-22 Osprey tiltrotor - the remarkable plane/copter combo craft around which the US Marines have based so many of their future plans, and which is at last in operational service after long a painful teething troubles. Relatively few, however, have been following the development of the Osprey's civilian counterpart, the Bell 609. The 609 has yet to be fully certified, but it's flying now - The Reg has seen it in action here at the Farnborough airshow - and the makers would love to hear from prospective buyers.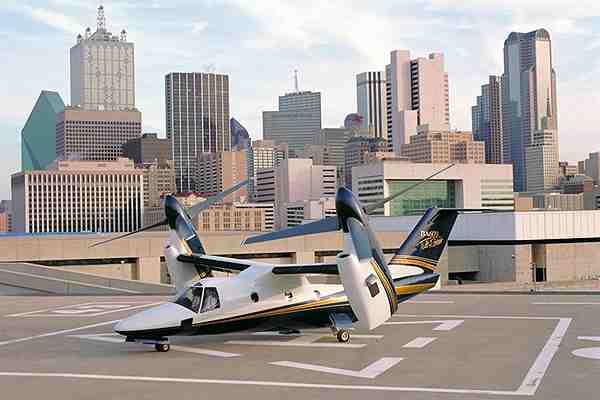 Darling, ordinary helicopters are so twentieth century.
Bell has partnered with the Italian helicopter industry to build the 609, and says it already has more than 80 orders from people and organisations in the States and Europe. Bell/Agusta marketing exec Don Barbour told The Reg today that "private individuals" including golfer Greg Norman and former US political wild card Ross Perot Jr have ordered 609s as their personal flying cars. Others have been sold to government organisations - Bell/Agusta are especially proud of the machine's abilities in search and rescue, and it is offered with a recovery winch.
As to vital statistics, the 609 can cruise at up to 275 knots - easily beating current helicopters. By making a very short takeoff roll, so saving fuel over a vertical liftoff, the machine can range up to 700 miles. It can hover out of ground effect at 5,000 feet above sea level, and cruise in aeroplane mode at 25,000. In effect, the 609 is a pocket Osprey.
It isn't quite a flying car - you'd never fit one in a normal garage, and while Barbour says it has easily passed city airport and helipad noise checks it wouldn't do on the street. It is pretty easy to fly, apparently. Barbour is rated on both fixed wing and helicopters, and says the 609 with its fly-by-wire controls is easier to fly than either. We've been promised a chance to try our rusty private-pilot skills on the 609 simulator later on - we'll let you know how that goes.
So it isn't a flying car - not quite, anyway - but there aren't many aircraft which can operate from both Battersea heliport and London City, fly to the Continent and drop in vertically in the neighbourhood of Frankfurt, Zurich or Milan. The density of major business hubs in Europe should make it the 609's primary market, as opposed to the US where the big cities are in two widely separated strips. This may give a clue as to Bell's decision to team up with Agusta and to put much of the manufacturing in Europe.
So - bottom line, what does it cost to buy a 609, and be the first in your billionaire's heliport with a tiltrotor? Barbour was reluctant to be pinned on price, as the 609 isn't yet certified. He also admitted that a tiltrotor would naturally cost more to maintain and run than an ordinary helicopter or business jet - but not as much as having both. All he would say was that Bell/Agusta "aim to be competitive - over the life of the aircraft - with business jets and helicopters now selling in the $18-23m range". ®
Similar topics
Broader topics