Sony and broadcaster Sky have finally televised details of their joint subscription TV-on-PSP service, which is now available to the portable console's punters.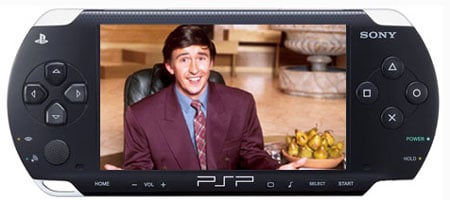 Go!View has all sorts of TV content available, including Alan Partridge
Dubbed Go!View, the service enables gamers to access a variety of telly content through Sky, including films. Shows are downloaded onto the handheld Sony gadget through a PC - the system uses the Windows-only Kontiki peer-to-peer content delivery system that underpins the BBC's standalone iPlayer and similar on-demand services from Sky and Channel 4.
Lots of TV shows are already available, including Top Gear, Doctor Who and one of Reg Hardware's personal favourites, I'm Alan Partridge. There's a focus on BBC and Sky content. Films and sports are available for download too.
Users have three subscription packages available to them: Entertainment, Sport and Comedy. A single package costs £5/€7 per month, while two packages are billed at £8/€10 per month. You can get all three for a tenner a month. Individual shows can be rented for £1.50, and films cost £2.50 each to watch for a limited period.
The service can be accessed online here.
Similar topics
Narrower topics