This article is more than 1 year old
UK's future super-stealth jumpjet 'rock solid' - Brit test pilot
Air Marshal less willing to go firm
Farnborough One of the most avidly-followed aircraft now under development - the F-35B supersonic stealth jumpjet - is naturally on show here at Farnborough this week, and lead maker Lockheed has just given a press conference studded with air marshals and generals from the various armed forces around the world who hope soon to be operating the revolutionary jet. Graham Tomlinson, the British test pilot who took the F-35B up for its first flight last month - albeit strictly operating as an ordinary plane, without using the vertical-thrust features - also briefed reporters.
Tomlinson, whose nickname in understated British style is "GT" (as opposed to Snake, Hoover, Dalek or whatever), is a former RAF Harrier pilot and therefore thoroughly experienced in jumpjets. To various envious comments from the military pilots in the room, he said he was "privileged" to be first to take up the new jet, and his selection had been simply a matter of being "in the right place at the right time".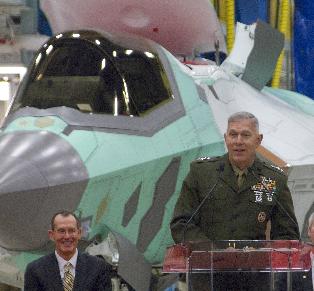 The F-35B supersonic stealth jumpjet
Tomlinson described the plane - and the engineering process which led to it - as "exceptional". He said the handling was "rock solid" and "just like the simulator - which it should be. This is 2008." Compared to the Harrier, renowned as a bit of a handful in a conventional rolling landing, Tomlinson said the F-35B "landed itself". He was also full of praise for the pre-flight test regime, saying that absolutely nothing had broken or failed to function as expected during the first flight.
"It was snag-free," he said. "The aircraft was serviceable on touchdown" - an exceptional event in his experience as a test pilot.
All that said, the main new technologies of the F-35B, its vertical-thrust and short-takeoff capabilities, have yet to be tested. It was confirmed today that the plane has undergone ground tests of the various doors and flaps that must open and close to use vertical thrust, and the engine has been run in this mode at "idle power", but at no time has the F-35B revved up enough to lift its wheels off the ground. Doors have been opened while airborne since last month's initial effort, but true jumpjet operations remain months away - probably early next year.
There were other questions for programme officials and military spokesmen to answer. The F-35B programme was long dogged by weight issues, and many have wondered whether it really will be able to perform one of the most important missions intended for it by the Royal Navy - that of air-to-air carrier fighter, as opposed to strike plane. A fighter must be able to mount routine air patrols fully armed and land back on the ship without dumping its expensive weapons. The late, great Sea Harrier fighter could just about manage this, but only in the freezing airs of the Iceland-Faeroes Gap where jet engines work at full efficiency. In hot climates, armed with a pair of heavy AMRAAM missiles, the Harrier could not get back on board safely and thus couldn't carry out combat air patrols at any reasonable cost - hence its recent and hotly debated retirement*.
A recent National Audit Office report has suggested that the UK's weapons bring-back requirement on the F-35B might be "at risk", and that the Royal Navy might need to use a so-called Shipborne Rolling Vertical Landing (SRVL) instead of a true vertical setdown, so as to gain some extra lift.
US programme officials and Lockheed execs were keen to deny this interpretation of the F-35B's projected performance. Reporters were assured that the F-35B could "meet or exceed" the bring-back requirement "right now", though the requirement was "specific in terms of temperature, altitude and so on ... there will be instances" where SRVL would be the best option. However it was said categorically that the F-35B would be able to do a normal vertical landing on a ship with safe minimum fuel and two AMRAAMs. "SRVL is an enhancement, not a weakness," said the US programme chief, suggesting that it was an option which would allow more fuel and weapons to be carried - rather than a case of the F-35B having to strain to meet the requirement.
Nonetheless, the UK's Air Marshal McNichol refused to confirm that the UK would definitely be going with the jump-jet, or B, model. In response to speculation that Blighty might upgrade its just-ordered carriers to include catapults and arrester wires**, purchasing instead the F-35C tailhook version of the jet, he merely said the F-35B jumpjet was the "preferred option at the moment". ®
Bootnotes
* Just in case you're wondering, there was no option to carry just one AMRAAM. This would have caused unacceptable stability problems in a vertical landing.
** This would be along the lines of the French non-nuclear second carrier, aka PA2. There would be steam boilers for the catapults in addition to gas turbines to drive the ship - in effect duplicate conventional power plants with the same portfolio of capabilities as nuclear. This seems highly unlikely in the case of the UK for price reasons: such a ship is thought likely to cost as much as 90 per cent of what a nuclear ship would.