Nokia E71 smartphone
It's a marvel how much geeky goodness is packed into a device this thin
Review The follow-up to the E61 is lighter and thinner, yet packs a 3.2-megapixel camera, push email, HSDPA 3G, a better keyboard, more memory and AGPS... and no Pop-Port.
Nokia often likes to push the style boat out for a little tour round fashion victim harbour. But when it knuckles down and applies its design experience to practical matters, there are few who can touch it.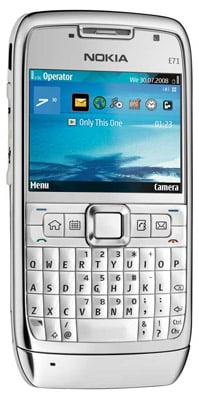 Nokia's E71: possibly the thinnest Qwerty phone in the world
The E71 business phone is a case in point. It has a Qwerty keyboard and large screen, so therefore it has to be a brick, right? Not when that brick has dimensions that are more akin to a playing card – big and wide when you look at it one way, but almost disappearing when you look at it from the right angle.
Nokia claims the E71 is the slimmest full Qwerty keyboard phone available, and at just 57mm wide, we're inclined to believe it. It's 11mm thick. The handset is even thinner than the normally svelte Blackberry Curve with its now rather portly-seeming 60mm dimension.
Despite the E71's thinness, its metal case adds a certain weight and gravitas, though at 127g it's hardly excessive. It's on the wide side, of course, to make room for that keyboard, but though it's necessarily tightly packed, the curved, rubberised buttons, which sit slightly proud of the face, are easy enough to use.