It's a sign of the times that the 3.2-megapixel camera - without one of Mr Carl Zeiss' famous lenses - now seems a little lacklustre in the face of stiff competition. Still, it offers 2048 x 1536 maximum resolution, has an LED photo light, an extended digital zoom which you can still use it even when you're at highest resolution, autofocus and red-eye reduction. OK, so it can't keep up with Nokia's N-series cameraphones or Sony Ericsson's Cyber-shot series, but the snaps are nothing to be ashamed of.
Video, as we've come to expect, is of lesser quality, but the E71 will still produce decent footage worthy of YouTube. The movement blur isn't too debilitating though you can see the compression artefacts and there's quite a lot of noise, especially in less-than-ideal lighting conditions. That said, Nokia's photo editing suite is one of the best you'll find on cameraphones, with loads of options for doctoring your pics.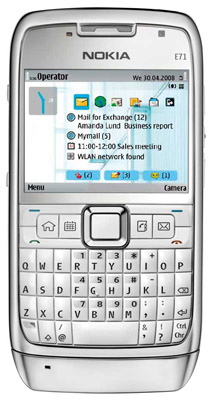 For some weird reason it features a 2.5mm headphone port
There's an Assisted GPS facility on board - the integrated GPS pick-up is given a boost by data sent over the network - bundled with Nokia's Maps application. Pretty good it is too if you happen to find yourself in a tight spot, though it's a bit of a squint to use regularly as a driving aid, especially when compared with dedicated satnav devices.
Voice direction is available as a downloadable add-on for £7 a month, and you can get traffic info for a further £3 a month. There's also geo-tagging for your photos and links to Nokia's Ovi file-sharing site.
Nokia's music player is functional without being fancy and makes a good fist of sorting and playing your music, with all the major formats covered, including MP3, WMA and AAC. There's 110MB of storage on board and you can expand it with hot-swappable Micro SD memory cards of up to 8GB capacity. Nokia's FM radio, by the way, remains one of the best currently available.