Frustratingly, with everything else near as darn perfect on the E71, the handset comes without a 3.5mm headphone socket - it has the now much less commonplace 2.5mm type instead.
The supplied headphones are functional at best, and though certainly not the worst bundled headphones we've tried, they do sound unpleasantly 'shut in' without sufficiently wide dynamic range.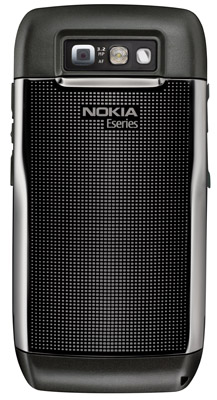 Despite its thinness, the metal case adds a certain weight and gravitas
QuickOffice4 is pre-loaded to allow you to read and create Word, Excel and PowerPoint documents. It's joined by Adobe Reader for viewing PDFs. There are also all sorts of extras bundled in too, including a barcode reader, a text scanner (very accurate with small batches of text), wireless keyboard connector, Push To Talk, WorldMate travel information, Psiloc Wireless Presenter for remote controlling PowerPoint presentations and more.
Battery-wise, we found it still going strong after two days of moderate use, though it probably would have been less without the phone automatically logging out of our WLAN when it wasn't in use.
Verdict
The Nokia E71 is a brilliantly efficient piece of technology that does pretty much everything you might want it to do and it does it all extremely well. Like a technological servant of sorts, it serves up its many excellent facilities and a host of other titbits with a minimum of fuss - and no small amount of style.

Nokia E71 smartphone
If the price isn't an issue, look no further – this is the only smartphone you need.
Price:
Contract only: from free. Unlocked: £370 RRP