Farnborough Today is the last of the "trade days" at the Farnborough Air Show, but the event isn't over. Most of the aerospace biz types, hacks etc. are either dispersing now or have already done so (we're back at Vulture Central), but the show goes on.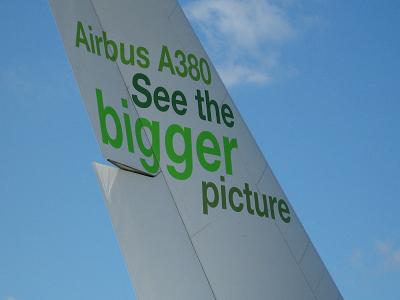 Alright Airbus, we get the message
Tomorrow and Sunday are the public days, and we'd thoroughly recommend Farnborough to anyone who likes planes and mad technology - though we would note that Saturday's forecast isn't ideal, and the transport infrastructure taking people to and from the show this week didn't cover itself with glory.
Once you're actually there, though, it's worth it. The highlights on offer over the weekend include the Shooting Stars - the all-female Italian parachute team sponsored by aspirant space pod sky-dive company Aero Sekur. They'll be followed by the relatively humdrum British Army parachute team, the Red Devils. There'll also be appearances by World War II aeroplanes, including the Spitfire fighter and legendary Swordfish torpedo plane - famous for gutting the Italian battle fleet at the Taranto raid of 1940. (The Fleet Air Arm celebrate Taranto every year, the way the rest of the Royal Navy commemorates Trafalgar and the Foreign Legion does Camerone*.)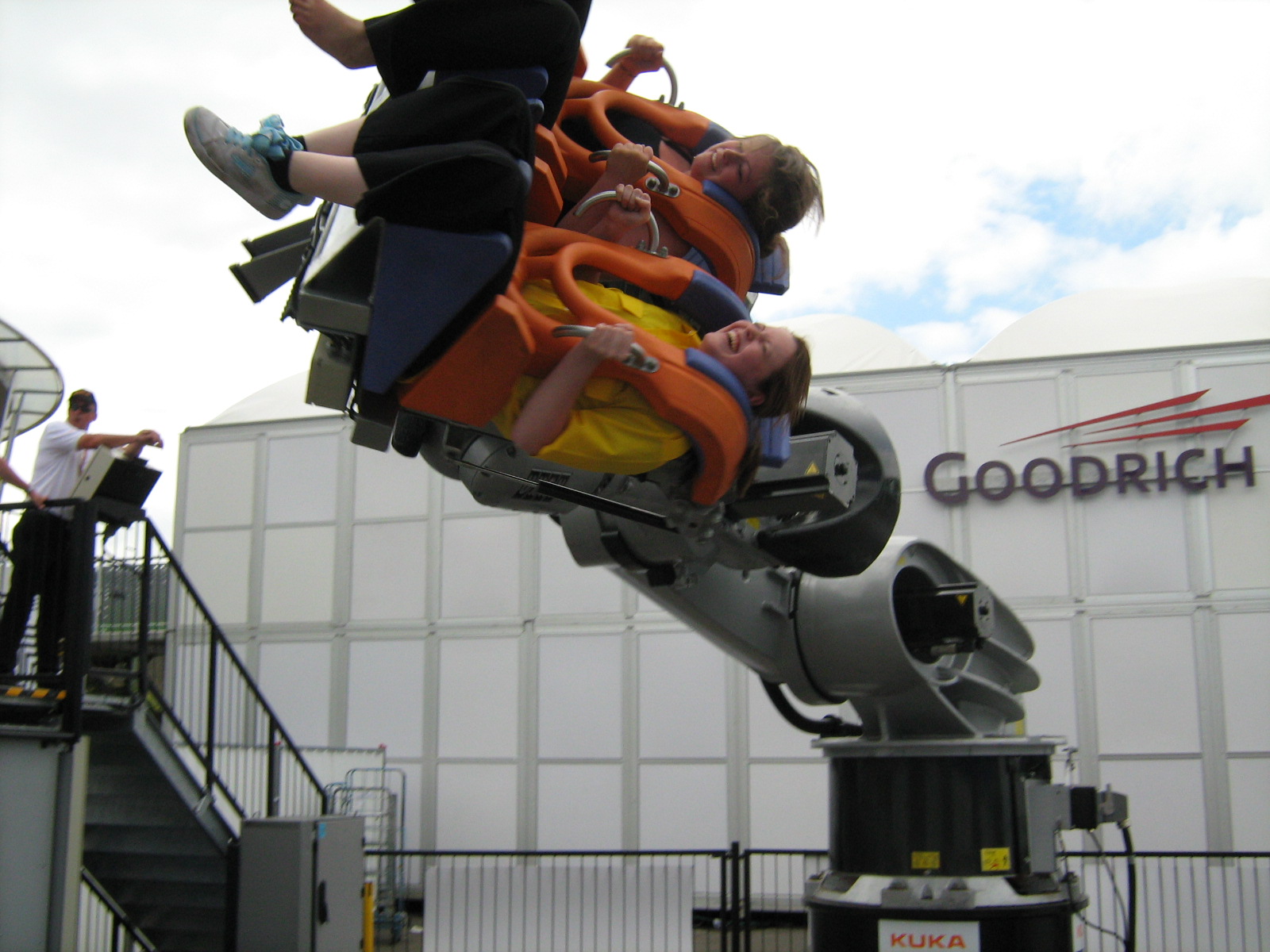 Don't stand too close to the robotic woman-flail.
Other aerial notables will include the Red Arrows, the (in)famous Eurofighter, and two old Reg friends - the world's only airworthy Avro Vulcan bomber, and the monster double-decker airliner, the Airbus A380. For those who haven't yet seen a tiltrotor in action, the Bell/Agusta 609 will also be flying.
Kids under 16 haven't been allowed all week - unless members of the Air Cadets, assigned to handing out flyers and the like - but at the weekend they can come free, provided they're accompanied by a ticketed-up adult. There will be loads of kids' attractions specially set up for the weekend, according to the show organisers, including rides, inflata-fun, "the famous Captain Farnborough" and so on. We'd suggest that very young children might not like it, though - with the likes of the Eurofighter and US Navy Super Hornet doing full-power manoeuvres just overhead, the noise level is roughly equivalent to a thunderstorm at times.
There'll also be all the usual exhibitor madness. We particularly recommend the robotic person-brandisher (pictured) and Rolls Royce's mockup of their nifty swivelling thrust nozzle for the F-35B supersonic stealth jumpjet, now entering flight test - video below courtesy of my phone and YouTube, so excuse the quality. The real thing can apparently bend through 90 degrees in just two seconds, all the while containing a roaring stream of super-hot jet exhaust:
You can see full details and buy tickets from the airshow organisers here, if you fancy any of that. ®
* That is, in all three cases, by singing and getting extremely drunk.