Register Hardware has already brought you the news that Sony's PlayTV PS3 DVR add-on will be available in Europe this September, but now we can tell you exactly which day.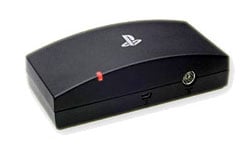 Sony's PlayTV: arrives here on 10 September
According to David Reeves, President of Sony Computer Entertainment Europe, the unit will land in Blighty on 10 September, Eurogamer reports.
Australia and New Zealand will have to wait until January or February for the first PlayTV units.
The device will be rolled out to other European countries between September and December 2008. Reeves said earlier this year that PlayTV will retail for €99 (£78/$157).
PlayTV has two tuners to pick-up DVB-T digital TV broadcasts in Europe. Users can watch one show while recording another, and pause live TV. Recordings are stored on the PS3's own hard drive and can be sent out across the internet to a PSP for viewing on the move.