Carphone Warehouse has revealed that Sony Ericsson's latest "high-end entry-level handset" will be available next month.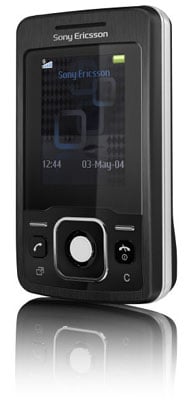 Sony Ericsson's T303: at the high end of the low range
The T303 was unveiled at CeBIT in Hanover, Germany back in March, but at the time SE wasn't willing to provide prospective punters with a shipping date for the handset. Fortunately, Register Hardware can reveal that the T303 will ship, from Carphone Warehouse at least, this August.
Although the stylish looking handset's only equipped with a measly 1.3-megapixel camera, the phone's body is finished with… ahem… "soft edges... metal details" and a 1.8in "mirror glass display". So, hopefully, you won't need to carry around a separate mirror for reapplying your lippy.

A mirror glass display adds to the phone's charm
The phone supports dual-band GSM/GPRS connections and has 8MB of internal storage. There's no mention of any support for expandable storage, such as SD cards. Bluetooth and a USB port do feature, should you need to move your data around.
Users will be able to play videos, music and cycle through still-image slideshows. The inclusion of an FM radio is a nice bonus.
The Sony Ericsson T303 will be available in either a "shimmering silver" or "shadow black" design for up to €80 (£60/$120).