Buying an unbranded power adaptor may save you a few quid, but it could end up costing you dear, Trading Standards officers claimed today.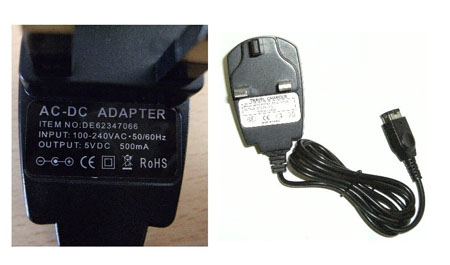 Trading Standards has recalled all unbranded console chargers, including this one marked only 'DE62347066'
The Buckinghamshire division of the government-backed consumer protection body has issued a recall notice for non-branded chargers and adaptors for games consoles, MP3 players, phones and other mobile gadgets, following fears that dangerous cheap Chinese imports have flooded the market. Some, it's claimed, could overheat - with a risk of fire - or cause electric shocks.
Trading Standards is searching for all AC/DC chargers "supplied as accessories for charging Nintendo DS and DS Lite machines". Some are also thought to have been sold as GameBoy accessories. Many are thought to have been sold to UK punters online.
The organisation said it is particularly worried about one charger carrying the product code 'DE62347066'. The power unit is sold as a travel charger.
Anyone worried that they may have bought dodgy charger should contact Buckinghamshire Trading Standards here.