The arrival of a swathe of iPhone 3G accessories was inevitable after the handset's release. The latest one's a backup battery that'll juice up your handset when you're away from a power socket.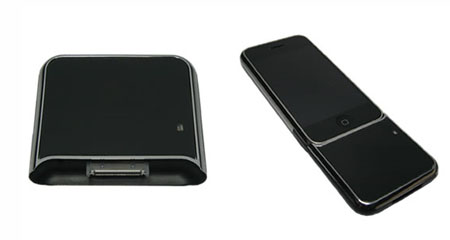 The Backup Battery for iPhone 3G: power in no time
The 1400mAh rechargeable battery can be charged through the iPhone's dock and then thrown into your handbag or manbag until the phone runs low on power. At this point, simply connect the battery onto the phone through its docking port and, Bob's your uncle, instant juice.
According to the battery's manufacturer, the lithium-ion device contains… er… "technology" that instructs the iPhone to drain the backup battery as soon as it's connected, transferring that power to the phone's internal battery.
This is definitely a plus because the battery sits over the iPhone's microphone, which could compromise call quality if users had to clip the battery to the phone for prolonged periods. The manufacturer doesn't state how long this power-transfer process takes though.
An LED built into the backup battery's housing glows bright blue when charging and soft blue when completely charged. When out of juice, the LED glows red. A full charge takes about 90 minutes.
The Backup Battery for iPhone 3G will be available online later this month for around $43 (£21/€27).