NASA eyes Japan's ISS supply vehicle
'Unofficial negotiations' to buy
---
NASA is reportedly negotiating to buy the Japan Aerospace Exploration Agency (JAXA) H-II Transfer Vehicle (HTV) as a means of ensuring it can fulfil its obligation to supply the International Space Station following retirement of the space shuttle fleet in 2010.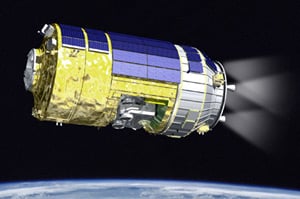 According to the Yomiuri newspaper, reported via Reuters, NASA is concerned that planned US spacecraft designed to take over from the venerable shuttles might not be ready within two years, and has accordingly opened dialogue with JAXA.
The H-II (see pic), which will be able to lift six tonnes of cargo, is slated for first launch some time during 2009, and will thereafter make one or two trips a year to the ISS. The vessel costs around ¥14bn ($131m, £66m) a pop.
While Reuters was unable to get a comment from JAXA, it explains that Yomiuri "quoted the space agency as saying it has been unofficially discussing the matter with NASA since February". ®