Review Undeterred by the unpredictable nature of the great British summer, Roberts has released a radio that it can power itself purely by the light of the sun.
Firstly, let's look at the other functions on the radio, which are pretty good. There's the detachable aerial, for instance. This can be clipped into a recess on the back of the radio to fully protect it. It's a nice feature, but we couldn't help thinking that if the radio was frequently used outside, the aerial could very easily get mislaid. However, once clipped into its little hidey-hole, the aerial is hard to dislodge. So as long as you remember to stow it away, you should be fine.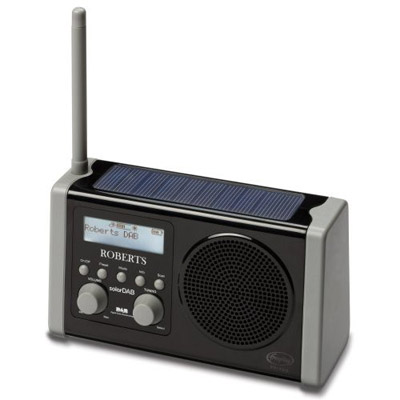 Roberts' solarDAB: powered by sunlight
Once installed, the aerial is a good size and, although not directional, provides the first link in what is a pretty robust signal-to-output path.
Indeed, the sound quality is better than we'd have expected for a single, small 80mm speaker with just 1W of power to call upon. Clarity of speech for talk radio is good, and any type of music played through the device is delivered in a well-balanced manner. The unit can also maintain clarity at high volume and the volume itself can be turned up quite loud, a useful quality in a product that is destined to spend a lot of its time outside.
A minute of Mozart followed by a snippet of Slipknot revealed that the radio can handle 'subtle' and 'downright brutal' in equal measure. We decided to really give the radio a challenge and tuned it to a birdsong channel - yes, there is one. The broadcast sounds of the woodland birds and beasties going about their business were delivered in a pleasingly natural way.