The technology behind the Star Wars MP3 player is hardly light years ahead, but the unit's kitsch value alone means it's sure to excite some of the film's fanatics.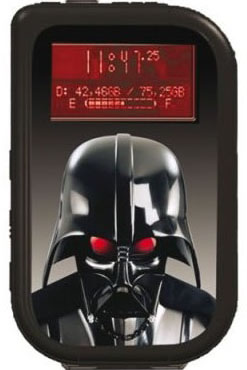 The Star Wars MP3 player: impressive, most impressive?
Sadly, the player's major drawback is that it only has a 512MB internal memory and there's no mention of an SD memory card slot for extending that capacity.
Online retailer Forbidden Planet claims the half-a-gigabyte is enough capacity to store 240 songs in WMA format or 120 songs as MP3s - enough, we'd say, for the six movies' soundtrack albums. But such a small selection of songs won't keep any galaxy hopping music junkies entertained for very long.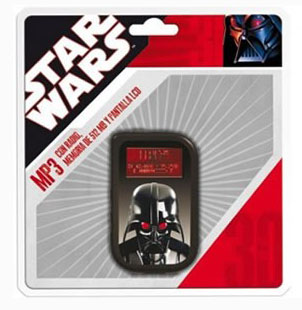 Many Bothans died to bring you this MP3 player
Thankfully, an integrated radio is the one saving grace. Although quite what the reception for Radio 5 Live is like on Tatooine or Naboo is anyone's guess.
A small LCD display's built into the player's front. The MP3 unit doesn't run on The Force, but rather a pair of supplied rechargeable batteries. A USB cable's also thrown in for transferring tracks onto and off of the player.
The Star Wars MP3 player will be available online later this month for £40 (€50/$80).