Further fuel for the touchscreen versus buttons debate was offered today at the British Motor Show, as Spanish car-tech newcomer IFR Automotive showed off its new, one-size-fits-all motocomputer kit.
One of the most notable features of this, as far as the driver is concerned, is that it replaces almost all hardware controls and buttons with a pair of interactive touch displays.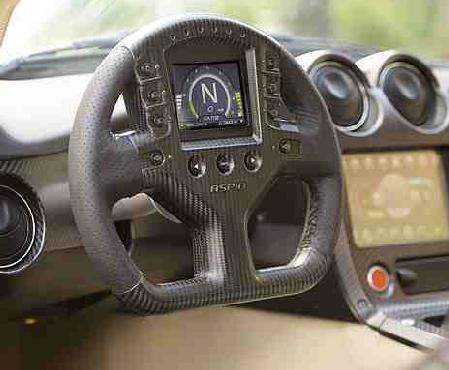 (Mostly) touchscreen motoring is here
Dubbed "Unidrive" by IFR, the new centralised car processing and wiring gear is just one of the technologies the company has developed since it was founded by Spanish motorsport engineer Ignacio Fernández Rodriquez in 2003. Fernandez and his team have also expended a lot of brainpower on design modelling and CAD, cunning structural and suspension tech and lightweight disc-brake systems. They hope to sell all this stuff separately to volume manufacturers, but are well aware that nothing gets attention in the car industry like showing people a car - so that's what they've done. All of IFR's nifty gear has been put into the company's "Aspid"* lightweight supertech demonstrator-cum-sportscar.
"Our market research confirms the importance of a supercar having strong emotional appeal," says Fernández. "But it also has to be totally unique. Combine these two factors with the need for robust environmental credentials and the result is what we've endeavoured to achieve with the Aspid."
The enviro-credentials bit you can take with a pinch of salt - that refers simply to the fact that the Aspid is very light, at just 700kg. Given that it offers 400 horsepower in its not-particularly-green 2 litre supercharged engine, that equates to crazy performance - 62 mph from nil in 2.8 seconds. The new superbrakes, fortunately, can bring the lightweight car to a dead stop from 100mph in only 3 seconds.
Perhaps more interestingly, however, the Aspid is also light on its feet and puissant when it comes to computing and electronics. Modern cars are full of standalone microprocessor-controlled systems, many of which don't talk to each other or the driver. According to Fernández this means wasted computing power, needless duplication of wiring and components, unnecessary weight and reduced functionality.
IFR reckons its "Unidrive" computing and IT gear can be put into any car at the design stage, and happily perform all the necessary functions. The company reckons this would normally yield a two-thirds saving in weight and the elimination of four in five processors found in a typical modern car. Even better if you're a serious petrolhead, Unidrive lets you get control of all the stuff that the car designers normally lock you out of. In the Aspid, where they've taken pains to plug in and hook up absolutely everything, the two touchscreens offer menus that let you fiddle with all kinds of stuff.
Interactive touch screens ... allow the driver to change many parameters such as the rev limit, valve timing, power output, steering assistance, ABS, noise valve, brake balance, ride height, traction and stability controls, as well as influencing the pitch, roll and yaw of the car by adjusting its damping characteristics.

For motorsport enthusiasts the system offers an in-built and extendable data logging capability, readily configured for all onboard diagnostics and control area network sensors with 24 analogue channels available and upwards. For the road this is complemented by GPS satellite navigation, GPRS/GSM mobile communications, motion-sensing accelerometers, Wi-Fi wireless technology, Ethernet interface connections, as well as touch screens for both driver and co-driver.

The system can help reconfigure the car to suit different drivers and different driving conditions and can ensure the Aspid is set-up correctly for the road or track. It can even direct the driver through a series of tests and operations that will enable it to calculate engine torque and power.
IFR emphasises that the Aspid is certified both by the FIA and as road legal, meaning you can drive it from road to race track just as you please. Deliveries are expected to start next summer, but there's already an order backlog and initially production will be just one a week. Price? £75,000 and on up. "No two Aspids will be alike ... expect fully loaded models to cost twice as much".
All in all, a moto-hacker's dream. For now Unidrive is only available on the Aspid, but IFR hopes that will change, and that the tech will make its way into mass-produced vehicles and thus get into ordinary drivers' hands. ®
* Named after "the small and very quick snake that killed Cleopatra". Aspid is Spanish for asp.