EMC's suite of enterprise content management tools are getting a massive 'Web 2.0' refresh over the next year.
Version 6.5 of Documentum will include four new add-ons that introduce that well-run track of beveled interfaces, social networking, wikis, blogs, RSS feeds, and so on.
The storage giant reckons it's found a healthy compromise between the well-trodden road of community spirit and keeping out the rabble which goes along with it.
"We're delivering a balance of the best experience for users with the control and performance IT needs to sustain a scalable and secure information infrastructure," said EMC content management senior veep Balaji Yelamanchili.
It's also supported by a new native XML database that helps users access and archive XML documents.
The heart of this transformation is a new client platform called CenterStage (formerly code-named "Magellan"). The dashboard module looks very similar to iTunes, complete with a CoverFlow look-alike to preview documents. CenterStage will provide shared team workspaces, smarter searches, and even a secure chat room for employee collaboration.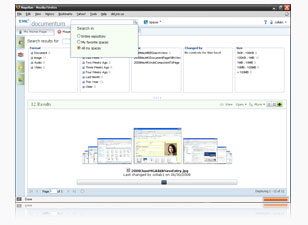 "Carousel" search looks familiar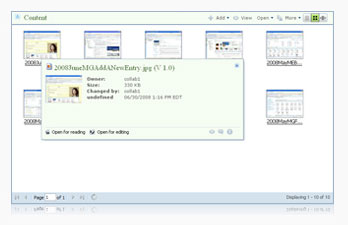 Thumbnails! The future is now!
A stripped-down version called CenterStage Essientials is available now as a free online beta and will be ready for general release by the end of the year (also offered gratis). An advanced version called CenterStage Pro will include support for corporate blogs, wikis, RSS feeds will be available in early 2009.
Another extra, Media Workspace lets users view, find, and manage rich media such as images and video. Content can be tagged and ranked using a star-based system to prioritize and more easily organize the data. Media WorkSpace will begin shipping July 31 and is free to customers with a Digital Asset Manager license with EMC.
My Documentum is a lightweight client that hooks into programs like Microsoft Exchange to let users access Documentum data even when offline. The product will be available July 31 and requires an additional licensing charge.
Last is Documentum Web Publisher Page Builder. It's a new Adobe Flex-based web authoring tool that EMC claims will let non-technical business users create web pages. The app also ships July 31 and will cost extra. ®