Texas Memory Systems makes mighty big RAM SSD
RamSan, thank you 'mam
Texas Memory Systems has introduced its RamSan-440 DRAM-based solid state drive (SSD), with half again as much I/O bandwidth as its predecessor and a quadrupled capacity.
The previous and now entry-level RamSan-400 delivers more than 400,000 I/Os per second (IOPS) and offers 128GB capacity in a 3U chassis. The RamSan-440 offers more than 600,000 IOPS from a 4U chassis that can hold 512GB.
RamSan solid state disks are used in the financial, telecom, e-commerce, and online-gaming industries, as well as government, military, and research organisations for the highest speed online transaction processing, data warehousing, and batch processing. Typically they are deployed alongside traditional HDD storage. For example, frequently accessed database tables and indexes may be stored on the RamSan, while less performance-sensitive database components are on HDD storage. TMS says that the growing size of mission-critical databases and the falling cost of SSDs have increased demand and opened up a need for both faster and more performance SSDs, hence the RamSan-440.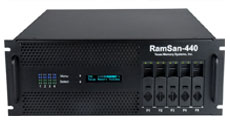 It uses DDR2 (double-data-rate) RAM to deliver its 600,000 sustained random IOPS and over 4GB/sec of sustained random read or write bandwidth, with a latency of less than 15 microseconds. It is available in 256GB and 512GB configurations which can be SAN-attached or direct-attached through up to eight 4Gbit/sec Fibre Channel ports. Multiple RamSan-440s can be combined to scale performance and capacity.
The RamSan-440 is the first SSD to use RAIDed NAND Flash memory modules for data backup, and the first system to incorporate Texas Memory Systems' patented IO² (Instant-On Input-Output) technology. It uses RAID-protected Flash memory modules and can back up or restore the entire 512GB of data in just six minutes. In Active Backup mode, the RamSan-440 continuously backs up data to the internal redundant Flash modules without impacting system performance.
TMS says that its RamSan-440 is the only SSD to incorporate both IBM ChipKill technology and RAID-protected RAM to protect against chip or board failures. By providing multiple layers of storage protection, the RamSan-440 offers enterprise users unparalleled levels of data protection and system reliability.
The RamSan-440 is immediately available. More information is available here
Copyright © 2008, Blocks & Files.com