This article is more than 1 year old
CE giants pitch yet another wireless HD standard
Will you welcome Wireless HDMI WiHD WHDI
Just what the world needs: another consortium promoting a wireless technology for the transmission of HD content in the home.
The latest is the Wireless Home Digital Interface (WHDI), launched today by Sony, Samsung, Hitachi, Motorola and Sharp.
WHDI's technology comes from Israeli company Amimon. It uses the 5GHz band to transmit uncompressed 1080p video, audio and control signals around the home from multiple sources to multiple receivers. All this data is beamed at up to 3Gb/s.
Amimon claimed WHDI's range is 30.5m. It can go through walls and has a latency of less than a millisecond.
The technology was developed specifically for video, Amimon said. It "takes the uncompressed HD video stream and breaks it into elements of importance. The various elements are then mapped onto the wireless channel in a way that give elements with more visual importance a greater share of the channel resources".
Audio and control data are "secured" against errors, so the video stream takes the impact when there's a transmission glitch.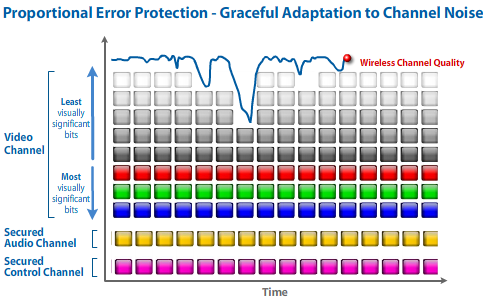 How WHDI works
"Any errors in the wireless channel are not noticed as they only affect the less important bits. Very high rates of video information can be transmitted because the human eye can tolerate the errors that fall on the less important bits."
That's what Amimon brings to the table - the other, rather bigger consumer electronics companies will oversee a Special Interest Group (SIG) that will develop the technology as a licensable, branded standard. They hope to offer it to other vendors sometime this year.
That will pitch it against the WirelessHD (WiHD) group, whose backers include Intel, LG, Matsushita, NEC, SiBEAM, Toshiba, and... er... Samsung and Sony. Clearly these two are hedging their bets on what is widely seen as the Next Big Thing in home entertainment: HD-capable wireless networking.
WiHD is based on technology developed by SiBEAM and operates in the 60GHz band to provide 5Gb/s of bandwidth for uncompressed HD video. But it requires a line of sight between transmitter and receiver, which rules it out as a multi-room system, at least in its own right.
Alongside WiHD, we have a selection of offerings that are essentially being used to deliver HDMI signalling over a wireless link, of which various types are employed by the different initiatives. Many are using the WiMedia Alliance's ultrawideband (UWB) infrastructure, so there's a measure of cross-vendor interoperability, though it's not guaranteed, which is probably why major vendors are looking at other initiatives, like WiHD and now WHDI, that can deliver true interoperability.
Wireless HDMI solutions, like Tzero's ZeroWire HDMI, use UWB to gain a broader range but offer a much smaller bandwidth: 300-480Mb/s. It'll send a signal up to 10m and provides a "perfect replication of high definition visuals", according to one backer, Gefen. The use of the word 'replication' is the giveaway - you're not getting the original image out of the receiver.
Is the difference noticeable? Wireless HDMI supports say no, just as Amimon is adamant that its wireless resilience system doesn't degrade the picture in a way that's perceivable by human eyes. Movie buffs sold on the prospect of perfect picture reproduction offered by 1080p 'full HD' may not be willing to chance it.