This article is more than 1 year old
Norwegians demo 10cm video & GPS pocket-chopper
Palmtop helipad aviation goes live
"The world's smallest full authority helicopter", with rotors just 10cm across, has been successfully flight tested in Norway. Scandinavian microcopter developers hailed the debut of the prototype PD-100 Black Hornet as "a major success".
Sceptical readers in possession of the small battery-powered remote-controlled helicopters which are nowadays as cheap as chips may be asking what the Black Hornet has that the ordinary stocking-filler chopper doesn't. We on the Reg drone desk have several such helicopters (people are starting to use them as branded press gizzits, like mugs or baseball caps), and we had the same thought.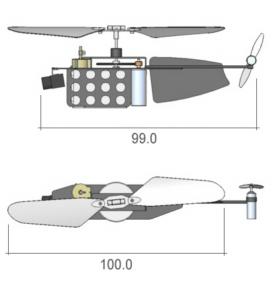 Scandinaviation rotation innovation.
But in fact the Black Hornet is considerably better than a polystyrene office-strafer. Most of the cheap battery whirlybirds, for instance, have no true hover ability. There is no option to fly backwards or sideways as one can with a real helicopter. But the Black Hornet does have full rotor authority, and can truly hover.
Better than that, it also has radio control (rather than line-of-sight infrared as with the toy copters) and it can carry a working video camera and transmit imagery back to the controller unit, which records it and can then pass the files on to a PC. The micro whirlybird can also carry a droppable payload, apparently, though doubtless a very small one: the Hornet's developers say it will offer "Deployment of Special Payload".
There are also hints that the Hornet may boast satnav, with talk of mission-planning maps on the controller and "fly home capability". This is far from unreasonable, with GPS chipsets now easily added to almost any small electronic device.
A complete Black Hornet package, with three folded copters and LCD-screen video/control box, is expected to weigh 0.7 kg and fit into a case about the size of a house brick. Optional extras are expected to include video goggles for easier piloting and a solar charger.
The Black Hornet programme is brought to you by Norwegian nano-air-vehicle startup Prox Dynamics. The company thinks the microchoppers could sell to universities and the like, but the Hornet is meant for military use - allowing soldiers a quick and lightweight way to look behind things, inside buildings, through windows and so forth.
The project is still in development at the moment - the current Hornet-1 is a prototype, not the finished product. It doesn't yet have the full electronics package, but Prox Dynamics considers the flight systems to be proven - the firm's main in-house special sauce is the necessary, extremely tiny tiny servos "the smallest and lightest in the world, weighing less than 0.5 grams".
The first production Black Hornet is expected in 2009, and volume shipments in 2010. If the microcopter can really do all that Prox Dynamics suggests, it ought to sell well - and if the cost is at all reasonable, it won't just be the military buying. ®