This article is more than 1 year old
Eye of newt: Inside Google's AdWords auction
Or whatever it is
In this graph, compiled by that high-volume advertiser, the fractional boost in impressions per rank is plotted against an ad's typical position on the results page (0.5 is equal to a 50 boost). The blue line represents the old Yahoo!, the red line Google: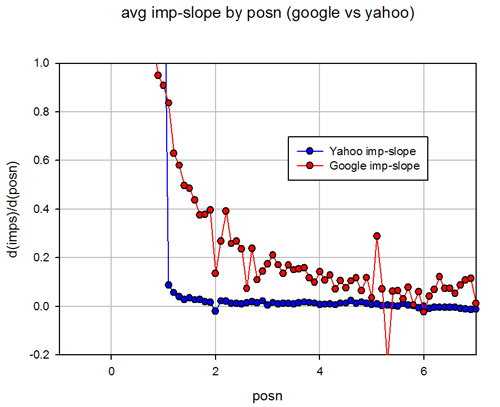 Does AdWords fiddle with impressions?
Though we've asked Google countless times whether it apportions impressions, the company has yet to give us a direct answer. It does acknowledge that if ten advertisers bid on a particular key word, there will be cases where the results page shows fewer than ten ads. But that could mean anything.
It's well known that Google targets ads according to a searcher's geographical location. And in all likelihood, it also targets according to a searcher's click history. The question is whether Google fiddles with impressions in an blatant effort to give certain ads more exposure than others.
Google does say "an ad that has twice the quality of another ad will tend to get about twice as many clicks." At the very least, by tying quality score to click through rate, Mountain View drives more traffic to ads that already receive considerable traffic. Whatever's going on inside that black box, Google has built a system where entrenched advertisers have a significant advantage over newbies.
But Google isn't just playing favorites. It's driving prices higher by limiting the number of clicks available at low prices. In a way, it's creating an artificial scarcity.
But is it an Auction?
Google maintains such control over the AdWords auction, you have to wonder if auction is the right word. In the broadest sense, it is. "An auction is an allocation mechanism in which people bid for something that's valuable to them," says Paul Klemperer, Edgewood Professor of Economics at Oxford University and the author of Auctions: Theory and Practice. "Though [AdWords] is clearly a more complicated auction than you get at Sotheby's or Christie's, you can see that it's an enriched version of the same process."
But AdWords isn't what the Average Joe expects when he hears the word auction. The rules aren't clearly defined. Google reserves the right to change the rules at any time. And in the end, you don't quite know what you're bidding for. Advertisers assume they're bidding for a spot on that results page every time someone types in a keyword. But that's just not the case.
As Klemperer points out, there are other auctions where you don't know the rules. "If I am an architect bidding for a contract, I supply a drawing and proposed price," he says. "And it's completely up to the panel to decide how they value certain architectural attributes."
But the architect doesn't pay the panel. The panel pays the architect. With AdWords, you don't know the rules, you don't what you're bidding for, and even if you're unsuccessful, Google grabs your cash. Would you call that an auction? ®