US Air Force may allow killbots to be flown by non-pilots
Flyboys sick of couch-potato warfare
---
The new head of the US Air Force - replacing an officer who was fired at least in part for dragging his feet on unmanned air operations - has hinted that the service may relax its rule that drone aircraft must be flown by fully qualified military pilots.
Answering written questions from Senators prior to his confirmation hearing, General Norton Schwarz wrote: "It may well be that a blend of rated and non-rated operators makes the most sense. If confirmed, I will come to a conclusion on this issue quickly."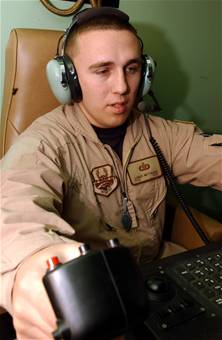 A "non-rated" drone handler in action.
At the moment, US Air Force Predator and Predator-B/Reaper UAVs are handled throughout every flight by commissioned officer pilots with wings on their chests, fully trained and rated to fly manned military aircraft. There is also a sensor operator, usually a non-commissioned person not qualified as aircrew - hence much cheaper and easier to find.
In recent times, massive demand for unmanned air patrols above Iraq and Afghanistan has caused manpower headaches for the USAF. The issue hasn't been with availability of Predators, nor sensor operators - the problem has been finding enough pilots. The drones spend much more time in the air than manned aircraft do - this is why the ground forces like them so much - but this means long shifts at the stick for the flyboys back at the ground control station. (Landing and takeoff are handled by a crew at the Reaper's base in theatre, so as to reduce comms latency, but most of a mission is under the control of stations in the USA.)
Pilots hate drone duty, and the previous USAF leadership were reportedly reluctant to forcibly draft larger numbers of their flyboys into the ground control stations - or to compel the existing drone jockeys to work more hours. US Defence Secretary Robert Gates described the business of ramping up drone operations as "like pulling teeth", before finally deciding to fire general Schwarz's predecessor - General "Buzz" Moseley - and his civilian boss Michael Wynne. (Gates also cited various recent blunders involving mistaken shipment of nuclear bombs and export of Minuteman missile parts to Taiwan.)
The other US armed services typically can't see the need to have manned-aircraft pilots in control the whole time. The US Army plans to deploy its own version of Predator - the Sky Warrior - which will have automated landing and takeoff, and be handled during missions by non-com specialists equivalent to today's sensor operators. There is control software in test nowadays which will allow a single, not especially highly trained operator to handle up to six drones at once.
But thus far, the pilot-dominated USAF has seemed to feel that if you absolutely must have an unmanned aircraft, then by God you'll still have a pilot.
It appears that this rather schizophrenic attitude may be starting to break down, though probably only in a partial and temporary way. ®