This article is more than 1 year old
HP prepping 2133 Mini-Note rival
Less durable, but cheaper, claims HP
Hewlett-Packard (HP) has confirmed that it'll soon give birth to the 2133 Mini-Note's baby brother, a cheaper alternative to recently unveiled machine.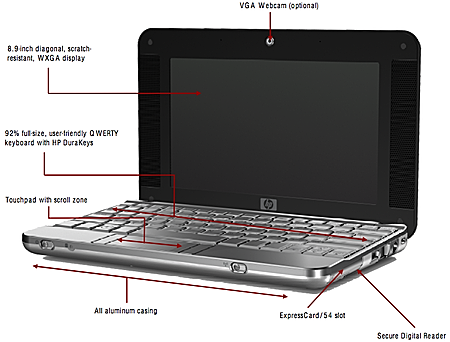 HP's original 2133 Mini-Note
At an HP launch eairlier this week, Jerel Chong, HP Australia's Market Development Manager for Notebook PCs, said that: "From a retail perspective we're looking at a similar device [to the 2133] but at a lower cost".
It seems you get what you pay for with HP though, because Chong admitted that the new unnamed machine "won't be as durable [as the 2133] but it will be cheaper".
HP unveiled the 2133 Mini-Note back in April. The machine has an 8.9in display and is powered by VIA's C7-M processor, clocked at up to 1.6GHz. There's up to 2GB of 667MHz DDR 2 memory on board. Storage options include 120GB or 160GB, 5400rpm or 7200rpm hard drives, or 5GB of solid-state storage.
The spec's – or even the name – of HP's 2133 baby brother haven't been unveiled yet, but the firm's confession that "it will be cheaper" should mean the PC sports specs more appealing to the financially challenged PC user.
A release date for the 2133 Mini-Note's baby brother isn't known yet.