Super-skinny storage
Freecom touts tiny travelling HDD
---
What keeps expanding whilst still getting smaller? The answer is storage and Freecom claims to be the latest manufacturer able to boast the title of world's smallest 2.5in USB 2.0 external hard drive.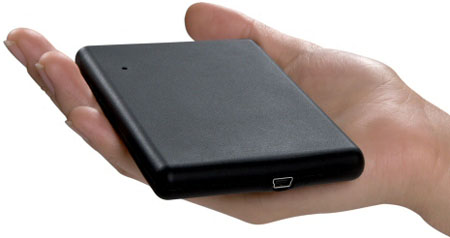 Freecom's Mobile Drive XXS: small
Freecom also claims the Mobile Drive XXS is the world's lightest such drive, with a weight of just 155g. Nonetheless, it's still available in 160GB, 250GB and 320GB capacity models. The drive is powered over a USB 2.0 or 1.0 connection, and it has a data transfer speed of up to 480Mbp/s over USB 2.0.
Sweaty-palmed storage geeks will also be pleased to hear that because the drive's covered in a form-fitting rubber sleeve, it shouldn't slip out of your hand. The drive is PC and Mac compatible.
Freecom's Mobile Drive XXS is available now, with the 160GB model priced at around £47 (€60/$93), the 250GB model costing £60 (€75/$120) and the 320GB priced at £72 (€90/$143).