US man cuffed for executing lawnmower
Shotgun maintenance voids warranty, expert warns
---
A Milwaukee man faces up to six years and three months in chokey and a maximum fine of $11k for blasting his lawnmower with a shotgun after the machine ill-advisedly refused to start, the Milwaukee Journal Sentinel reports.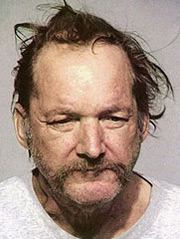 Keith Walendowski, 56, (pictured) had apparently had a few ales when he decided to fire up his "Lawn-Boy", without success. Cue hot shotgun action followed by police intervention and arrest.
Walendowski magnificently declared to officers: "I can do that. It's my lawn mower and my yard, so I can shoot it if I want."
He elaborated: "I got pissed* because my lawn mower wouldn't start, so I got my shotgun and shot it."
Law enforcement operatives were unimpressed with this defence, and cuffed the mower terminator for "possession of a short-barreled shotgun or rifle and disorderly conduct". They also found a handgun and stun gun in the perp's home.
Regarding the mower, the Milwaukee Journal Sentinel contacted local expert Dick Wagner of Wagner's Garden Mart who declared it "unlikely" the Lawn-Boy could be repaired. He also had some seriously bad news for Walendowski, concluding: "Anything not factory recommended would void the warranty."
Regular readers will of course be aware that our US cousins have a long tradition of anger-fuelled shotgun maintenance, as further evidenced by the splendid case of the Washington state chap who decided it was a really bright idea to use a 12-gauge to loosen a wheelnut on his Lincoln Continental - in the process narrowly avoiding a Darwin Award nomination. ®
Bootnote
*Just to clarify, Walendowski was pissed in a double, Transatlantic sense, viz: intially drunk and then drunk and angry. His state of inebriation was confirmed by an unnamed female member of his household.