Sony unveils EPUB eBook support
Format friendly electronic reading
---
Sony thinks eBooks are the way forward and, in an effort to get novel nerds ditching their paperbacks, the firm's introduced EPUB file support to its later Reader.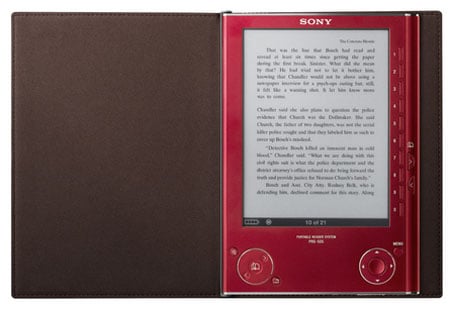 Sony's red PRS-505 Reader, with EPUB support included
The company intends to release a firmware update allowing the PRS-505 Reader to access and accept both secure and unsecure content published in the EPUB format.
EPUB, or .epub to give it its proper extension, is a completely open and free standard that offers eBook fans interoperability between software and hardware.
The main advantage of Sony's decision is choice, because users will also be able to view the EPUB format alongside existing eBook formats, such as BBeB. A local library, for example, could produce free newsletters in EPUB that could be read on Sony's PRS-505.
"This upgrade opens the door to a whole host of paid and free content from third-party eBook stores, web sites and even public libraries," said Steve Haber, senior vice president of consumer product marketing for Sony Electronics.
The EPUB firmware update for Sony's PRS-505 Reader will be available online sometime in August.
Sony's also produced a red edition of the PRS-505 Reader, which will support the EPUB format right out of the box. The red Reader will be available online next month for around $300 (£150/€190).
Similar topics
Narrower topics