This article is more than 1 year old
Boeing chuffed with latest raygun-jumbo ground tests
Nuke-nobbling 747 hasn't exploded or melted so far
US aerospace colossus Boeing has informed the world that everything continues to be fine with its plan to build an enormous nuclear-missile-blasting laser cannon inside a jumbo jet. According to the company, the business part of the ray weapon has now begun ground checks using its deadly, poisonous, corrosive chemical fuel - rather than just water.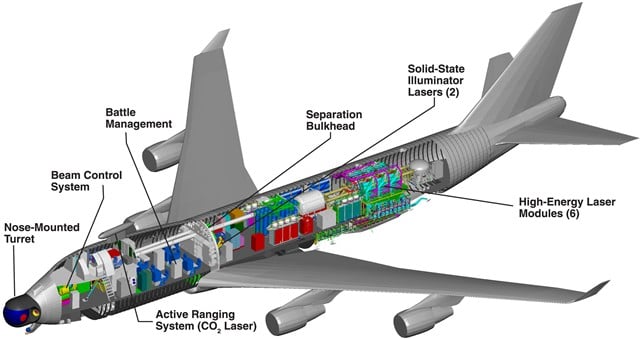 Inside the giant acid-filled aerial raygun platform.
Boeing sees this as a significant technical feat for its Airborne Laser (ABL) programme. The laser - from Northrop Grumman - has already been fully tested on the ground, but then it had to be taken apart and put together again inside the back end of the carrying aeroplane, a 747 freighter. The beam is generated chemically using very dangerous fuels, some capable of eating through pipework, valves or containers, so there was always a risk that the first time real juice was run through the beam cannon it would spring a leak, perhaps burning or melting a hole in some critical part of itself or its jumbo mothership - conceivably even causing a catastrophic explosion.
However, Boeing and Northrop aerial blaster gun engineers seem to have avoided this pitfall, as chemicals are now being run through the laser modules while fitted in the plane without mishap. The next step is actually lighting up the beam and turning the knob to full combat power, which will be another moment of truth for the system owing to the heat, pressures and energy releases involved.
"The Airborne Laser team has done a great job preparing the high-energy laser for these fuel tests, which will lead the way toward achieving 'first light' of the laser aboard the aircraft," said Mike Rinn, a big cheese in the Boeing aerial rayguns department.
Boeing still believes it's on track for first roast on the ground this year, followed by flight tests against an intercontinental missile rocket stack next year.
Despite the obvious desirability of a jumbo jet filled with tanks of explosive, corrosive, toxic acid, able to shoot frikkin' laser beams out of it to blow up space rockets, the ABL has its critics. Even if the Boeing raygun team is at last closing in on its objective, the programme's future is far from assured. ®