This article is more than 1 year old
Ex-Googlers reinvent web search
Quantum porn
Updated - but still NSFW In an attempt to upstage their former employer, a trio of ex-Googlers have launched a search engine of their own. They insist on calling it "Cuil" - pronounced "cool," apparently - and they say it "goes beyond today's search techniques."
This includes flashing random pornography when you search for information about a Grenoble-based quantum computing researcher.
"Cuil gives users a richer display of results [such as] images to identify topics," reads the company's press release. And as loyal Reg reader Jonathan Grattage points out, he and his quantum research are identified with "little pictures of a US serviceman and a guy masturbating over some other poor sap":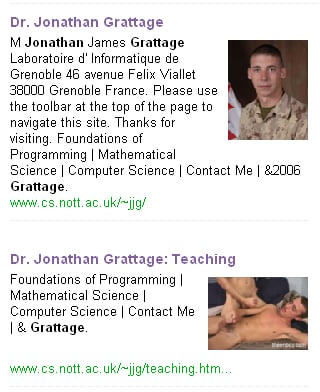 Three men who aren't Jonathan Grattage
Cuil achieves this "richer display of results" by indexing a whopping 120 billion web pages. According to the company, that's three times more than any other search engine.
Yes, Google is disputing this claim. "We maintain the largest collection of documents searchable on the web," said a spokeswoman for the Mountain View search giant, which quit releasing index numbers about three years ago. "Over the past year, we have increased our index size by billions of documents." But there's no doubt Cuil is capable of things that Google is not. If you google Jonathan Grattage, there's no masturbation in sight.
You see, unlike Google, Cuil is designed to analyze the context of each web page and the concepts behind each query. As CEO Tom Costello puts it, "Cuil presents searchers with content-based results, not just popular ones, providing different and more insightful answers that illustrate the vastness and the variety of the Web."
Jonathan Grattage points out that those little pictures aren't on his web site and have nothing to do with him. But he doesn't know search like Cuil knows search. Costello researched search engines at Stanford University and IBM. His wife worked for Google. And so did two other Cuil founders.
We asked them to explain their unique insight into the world of search. But we've yet to hear back. ®
Update
Cuil has explained its quantum porn. The company says it's attempting to tag each search result with an image "that will help people visually check whether the result is something they want to click on." But the mid-masturbation pic was a mistake.
"We want people to be able to determine clicks by looking at a picture rather than reading through 200 some words," says Cuil vp of communications Vince Sollitto. "But that's a significant challenge, something that's not offered on the web today...We've made some progress on it, but there's still a lot to do."
Sollitto also indicated that random pornography may have turned up beside certain results because Cuil received far more hits than anticipated after yesterday's launch. That's right, Cuil - still pronounced "cool" - is blaming the mid-masturbation pic on heavy traffic.
"There was overload on servers, and when that happens - and you lose a machine for even a minute or so - the images that machine is going to provide can't be used, and so you then have to choose from the remaining results you have," Sollitto says. "And if that machine had key images, then the quality of your results are severely affected."
Just to be sure, we asked him to repeat this argument. "If the machine that had the image we intended to provide was down, then we may have defaulted to a less than ideal image," he replied. We would call that a design flaw.
Then Sollitto pointed out that "with inappropriate images or content that is of a questionable nature [that would be porn -Ed], there's no doubt the purveyors of that content do anything they can to describe it in ways that make it seem like something else."
In any event, if you now search Cuil for "Jonathan Grattage," you no longer see gay porn. But that US serviceman is right where he always was.