Dell has unveiled a range of miniature PCs aimed at anyone looking to minimise their electricity consumption and maximise their desktop space.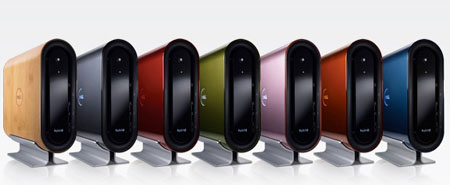 Dell's Hybrid Studio desktop: pick a sleeve, any sleeve
According to the manufacturer, the Studio Hybrid PC line is "energy efficient" because it uses roughly 70 per cent less power than a typical desktop PC. This is achieved, in part, Dell claims, by designing the PC to be about 80 per cent smaller than the typical desktop.
The PC measures just 196.5mm x 71.5mm x 211.5mm and allows users to swap the machine's sleeve to suit their design preference. Several colours are available, including bamboo, emerald, quartz and ruby.
Studio Hybrid comes with 1GB of DDR2 memory and features Intel's integrated Graphics Media Accelerator X3100, both as standard. The machine also comes with a 160GB 5400rpm hard drive and 8x slot load CD/DVD writer. But, a little more cash gets you a 320GB HDD and 6x slot load Blu-ray/CD/DVD combi drive.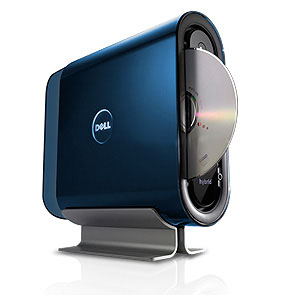 A Blu-ray drive is optional
An 8-in-1 media card reader can be built into the PC, but as standard it comes with an integrated HDMI port for, say, direct connection into a compact camera or camcorder. Five USB ports are included too.
A RF wireless keyboard and mouse are also thrown in, but the machine doesn't come with a display as standard.
Dell's Studio Hybrid line is available now online in the UK, with prices starting at £400 (€505).
Similar topics